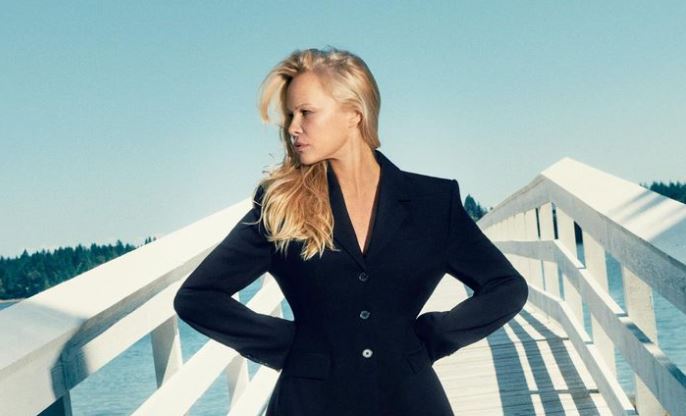 Vancouver Island's own Pamela Anderson is the fall face for a B.C.-based clothing brand, and she's showing off her waterfront property in the new ads.
Anderson, the 56-year-old actor, activist and former Playboy playmate, is featured in Aritzia's "Pam Is at Home in Babaton Fall 23" campaign, which was shot on location in Ladysmith, north of Victoria.
"We caught up with the model-turned-memoirist on common B.C. ground outside her house in smalltown Ladysmith," says Aritzia, the Canadian women's fashion brand founded in Vancouver in 1984.
"Over the course of two bright blue days, Pam exchanged her at-home uniform of gardening boots and jeans for pieces from the Babaton Fall 23 Collection."
The campaign was released in August and shows Anderson modelling various Aritzia clothing items, including a blazer, dress and trench coat.
"It's been really, like a full circle. I didn't think I could actually come home, but I did," she said in an ad posted to Instagram.
Anderson was born in Ladysmith, attended high school in Comox and in 1989 was flown to Los Angeles for a Playboy Magazine photoshoot. She subsequently moved there to pursue a career in modelling, before returning to Ladysmith in 2019.
Since then, she's penned the New York Times best-selling memoir Love, Pamela, released on Jan. 31, 2023, the same day the documentary Pamela, a love story, which "shares the story of her rise to fame, rocky romances and infamous sex tape scandal," was released to Netflix.
The doc was also filmed in Ladysmith.
Up next, Anderson will serve as host on a new Corus Studios series Pamela's Cooking With Love, set to premiere in 2024. Corus has also ordered a second season of HGTV's home renovation series Pamela's Garden of Eden.
"I know my style has been a bit wild over the years, but I like that. It just depends. It kind of just reflects what's going on in my head. Sometimes it's crazy, and now I feel it's a little more grounded," added Anderson in the Aritzia ad.
"I am good enough, I am beautiful, I am worthy. I always think someone is great around every corner. And see what happens. I'm just a lover, that's my purpose."
READ ALSO: