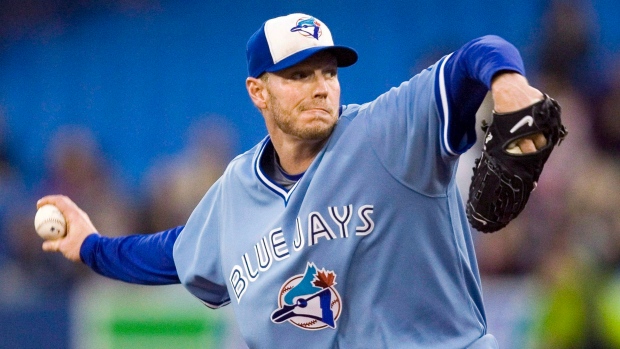 Former Toronto Blue Jays star pitcher Roy Halladay has died after his plane crashed in the Gulf of Mexico.
He was 40.
The sheriff's department in Pasco County, Fla., confirmed Halladay's body was found at the scene of the crash. At a news conference, Sheriff Chris Nocco — who knew Halladay — said the ICON A5 went down about noon Eastern Time near Holiday, Fla.
"He was probably one of the most humble human beings you'll ever meet," Nocco said. "For somebody who won two Cy Youngs, as I said one of the greatest pitchers in baseball, he would walk in the room as if he was just anybody. It didn't matter who he met, he was kind and generous."
The sheriff's office marine unit responded to the downed plane and found Halladay's body.
No survivors were found. Police said they couldn't confirm if there were additional passengers on the plane or say where it was headed.
We are saddened by the tragic news that Roy Halladay, 2-time Cy Young Award winner & 8-time All-Star, has died in a plane crash. He was 40. pic.twitter.com/SOFv3bOLyt

— MLB (@MLB) November 7, 2017
Statement from the Blue Jays organization on the tragic passing of Roy Halladay: pic.twitter.com/Ih8D0RQE9p

— Toronto Blue Jays (@BlueJays) November 7, 2017
Halladay won the Cy Young Award twice, first with the Blue Jays in 2003 after 22 wins and a 3.25 earned run average.
He won it again in 2010 with the Philadelphia Phillies.
He threw the 20th perfect game in MLB history on May 29, 2010.
In October of 2010, Halladay became the second pitcher in Major League history to throw a playoff no-hitter when he shut down the Cincinnati Reds in the National League Divisional Series.
Halladay was drafted 17th overall by the Blue Jays in the 1995 MLB Amateur Draft.
His career ended in 2013 with a 203-105 record, 2,117 strikeouts and 67 complete games.
Halladay was also an amateur pilot who often posted on social media about small planes. ICON aircraft had posted a video with Halladay trying out a new plane. Other baseball players to die in plane crashes included Pittsburgh Pirates star Roberto Clemente in a relief mission from Puerto Rico travelling to earthquake victims in Nicaragua on New Year's Eve in 1972; New York Yankees catcher Thurman Munson piloting his own plane near his home in Canton, Ohio, in 1979; and Yankees pitcher Cory Lidle piloting his own plane in New York City in 2006.
With files from The Canadian Press