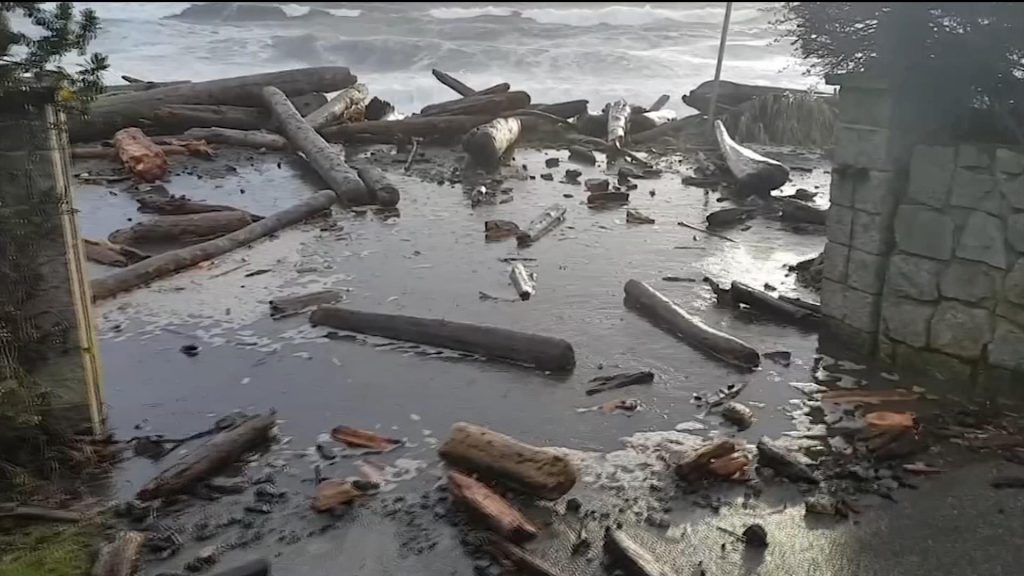 WATCH: Roads like Ocean Boulevard in Colwood, which have a body of water on either side, are getting the brunt of winter storms and with experts warning they'll only get bigger, oceanfront homeowners are worried about erosion. Luisa Alvarez reports. 
Nothing found
Sunday's storm was a wake-up call as to what mother nature can do and Ocean Boulevard and Lagoon road along Colwood's waterfront shows the aftermath. Parts of the street were flooded and driftwood debris was everywhere. Big logs of driftwood covered the beach as far as the eye could see barely leaving anywhere to step with some coming right up to the driveway of a house with an ocean view.
"I started moving logs out of the way because I had to get out of here on Sunday and standing  I was getting wet so I eventually said no forget it I'm out of here," said Ocean Boulevard homeowner Karl Hoener.
To protect those homes from erosion the city of Colwood built a boulder wall more than 20 years ago, but homeowners say it's falling apart and it doesn't go far enough to protect their homes.
"In the winter when we have the big storms the water comes right at the side of my house and it is getting eroded away right beside us because the wall just ends so there's nothing to stop the water from coming in," said Hoener.
Erosion has always been a concern along Ocean Boulevard as it has two bodies of water on either side.  In 2008 the city spent over $100,000 dollars to address erosion concerns and protect the bridge at the Esquimalt lagoon from washing away. But according to Colwood Mayor Carol Hamilton, no other major work has been completed since then.
But now, as experts warn storms will only get bigger due to climate change, Hamilton says the city is being proactive and has begun a coastal erosion study to see what improvements are needed for the future.
Phase one is currently underway, which covers from the pump house to the Esquimalt Lagoon bridge.
"It's been going on for over a year now this isn't something that you can go up to the beach and make out a plan it's over time," said Hamilton.
Phase two which covers the other side of the pump house all the way just past the homes closest to the waterfront including Hoener's is currently before council as part of the five-year budget plans.
"We are looking forward to when those studies come back so we can have real conversations as to what we are going to do, cause with the building of Royal Bay lets know the kind of things that will affect how things are built," said Hamilton.
But there's no timeline on when they would be concluded so homeowners on Ocean Boulevard like Hoener will have to wait a while to see whether or not the city will do anything about repairing and extending the wall.
Homeowners along the side of the Esquimalt Lagoon have also complained about erosion which they say is accelerated by the Canada Geese eating the grass which acts as protection. But the Esquimalt Lagoon is part of a protected migratory bird sanctuary and Hamilton says doing anything about the geese is out of the city's jurisdiction.