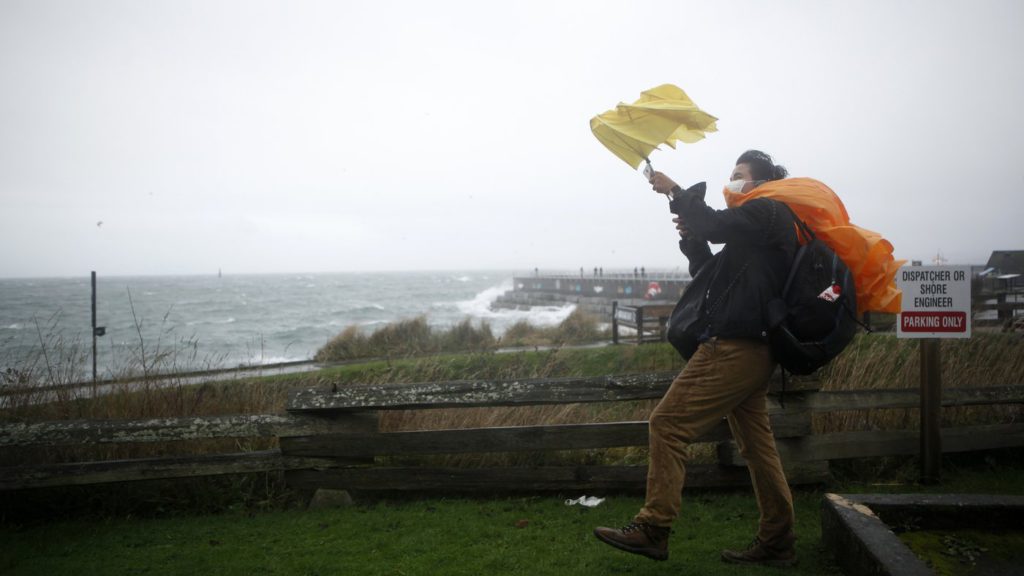 THE CANADIAN PRESS/Chad Hipolito
Forecasters are warning high winds and heavy rain could hit parts of the British Columbia coastline during the first storm of the fall season starting Sunday night.
Environment Canada has issued a wind warning for Vancouver Island's coastal areas including Greater Victoria and much of the province's central coast down to the northern portion of Sunshine Coast including Powell River.
The weather agency says some areas could get wind gusts up to 100 kilometres per hour through to Monday evening, while other locations, including Greater Victoria, could see wind speeds from 70 to 90 kilometres an hour.
The advisory warns strong winds are also expected in the Metro Vancouver region and the full fall foliage can make trees more prone to breaking, increasing the risk of power outages in B.C.
Meanwhile, Environment Canada has also issued a rainfall warning for the Howe Sound region as it predicts up to 65 millimetres of rain with wind gusts up to 70 kilometres per hour.
The weather agency has said more than 100 millimetres of rain could fall across parts of western Vancouver Island by early Tuesday, and most of the province can expect cloudy skies and showers for the rest of the week.
The recent cool and wet weather has helped crews control a number of wildfires in British Columbia such as the Glen Lake blaze near Peachland, but officials have said extended periods of significant rainfall will be needed to ease drought conditions plaguing the province.
This report by The Canadian Press was first published Sept. 24, 2023.