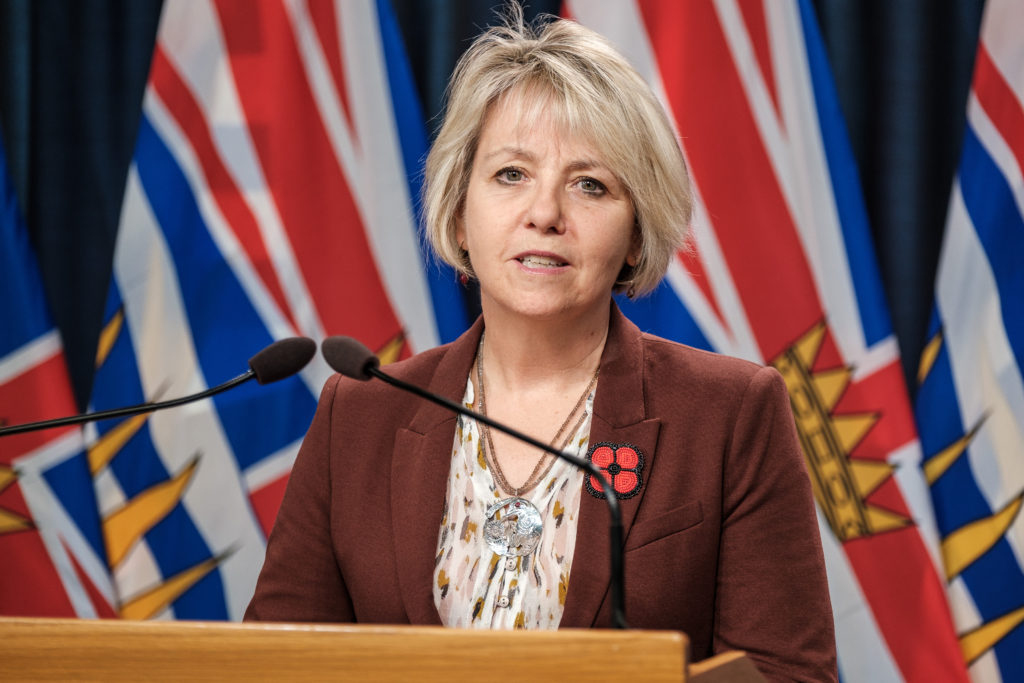 Thousands of students, many of whom are unvaccinated, in British Columbia will be returning to the classroom on Monday amid a historic rise in coronavirus infections.
"It is essential and it is a priority for all of us that we keep schools open and functioning for our children," Dr. Bonnie Henry, the provincial health officer, said during a press conference on Friday.
At various points throughout the pandemic, but particularly of late, B.C.'s top doctor has said that schools are not a hub of transmission — saying they're "not a major source" and "low-risk" environments.
"While schools are most definitely a reflection and an extension of our communities, they have not, and we have seen this consistently and there is no reason to think it will be different now, they are not a major source for transmission," said Henry said earlier this week.
But Jose-Luis Jimenez, a professor of chemistry at the University of Colorado-Boulder and an expert in aerosol transmission, said Henry is wrong when it comes to transmission in school.
"It's absurd, of course, there is lots of transmission in school," he said.
Jimenez, who has been openly critical of Henry on social media in recent weeks, explained that COVID-19 is an airborne virus that is strongly affected by mitigations such as vaccination, quality and fit of masks, ventilation, filtration, duration, number of people, size of the classroom among other things. He also said schools are really no different than other public places.
"There is nothing magical about schools. You get airborne transmission," he said.
What do studies say?
As with other public settings, COVID-19 transmission does occur within schools but to what degree isn't fully known or even understood.
"I see these debates between people. One side is transmission happens in school and one side is no transmission happens in school," said Dr. Paul Tupper, professor of mathematics at Simon Fraser University. "I think the truth for earlier variants is that with appropriate protective measures, transmission was very low in schools for earlier variants."
A handful of studies conducted early on in the pandemic do suggest that transmission of the virus at schools is lower than in other settings.
One such study conducted in May 2020 by the Dresden University Hospital found that out of 2,045 blood samples taken from a mixture of students (1,541 children between Grades 8 and 11) and staff, only 12 of them had antibodies to COVID-19, suggesting that infection rates at schools were lower than in other public settings.
Another study, conducted in Wisconsin in 2020, found that out of 191 cases of COVID-19 identified in students or staff members at 17 schools, less than four per cent were the result of in-school student transmission. At that time, masking was required and, according to the study, widespread community transmission was occurring.
A Canadian study also found that transmission was low in schools across Canada and that the majority of school transmission occurs in a small number of classrooms.
"In Canadian schools, transmission was very low and that really supports the idea that we did the right thing last year by having schools open," said Tupper, who was one of the authors behind the Canadian study.
It is worth noting that the majority of the studies, which weren't peer-reviewed, including the one that Tupper was involved with, took place either prior to vaccine approval for school-aged children or before the onset of Delta and now Omicron.
RELATED: BCTF urges province to temporarily move K-12 learning online, implement more measures to protect schools from COVID
However, professor Jimenez said it is difficult to estimate transmission rates in school.
"You need to test very frequently, since many children are asymptomatic, and many studies don't do that," he said, adding. "There are studies that have reached both conclusions, but the better-done ones show that there is significant transmission in schools."
A study conducted by the Omaha (Nebraska) Public School district along with the University of Nebraska Medical Center that did test asymptomatic school-aged children, found that infections at schools were being "dramatically" underestimated in public reporting.
The OBS study, which took place in late 2020, tested students and staff at three schools in low-income areas without symptoms each week using a PCR test. Environmental air, surface and wastewater tests were also performed and all students and staff were required to wear masks in the classroom.
Its findings, which have not been peer-reviewed, concluded that infection rates were actually two-and-a-half times higher for staff and nearly six times higher for students than what was being reported publicly.
"This data shows the prevalence of SARS-CoV-2 infection in school-aged children is being dramatically underestimated," Dr. Jana Broadhurst, corresponding author on the study, said in a press release on UNMC's website.
A lack of data
Data around transmission in schools since about the Fall of 2020 isn't as clear as it was earlier in the pandemic, according to Tupper.
"Unfortunately, a lot of the people that were collecting data the last school year stopped collecting data," he said. "Often because they were burned out, or there wasn't enough support and so because of that we don't have great or even good data for the fall when Delta was around."
Despite the lack of data, Tupper said it appears that transmission was still low in schools when Delta was the dominant strain — something that could be the result of improved safety protocols, and masking requirements.
"It is reasonable to assume that [Delta] is more transmissible but not so much that it is a huge difference. Schools seem to be fairly safe places," he said.
B.C. does not publicly disclose the number of in-school transmissions that have occurred — something Tupper would like to see them do — but does post monthly reports on the BCCDC's website about exposures within the provincial K-12 school system.
According to its latest report, which covers a period before Omicron cases really took hold in B.C., there were 2,902 infections identified in students between the ages of 0-17 from Nov. 18 and Dec. 14. The 5-11 age group, which is only eligible to receive their first dose of vaccine, had the most recorded cases at 1,951 of any cohort during that period. There were also 1,029 exposure notifications posted between Nov. 14 and Dec. 11 and there have been 4,004 exposure notifications this school year alone.
"Most cases of COVID-19 among students and staff were acquired outside of school, in their community or household. COVID-19 exposures at schools did not typically result in transmission," the report reads without providing any data on in-school transmission rates.
Dr. Colin Furness, an infection control epidemiologist at the University of Toronto, said when the original strain of COVID-19 was spreading throughout the community, the transmission rates among children was half of what it was for adults.
"The original COVID was not very contagious, basically a reproduction number of three for four and for kids that was a lot lower, so we didn't see the kind of transmission that we would have expected," Furness said in response to a question from CHEK News during a livestream event organized by Protect Our Province, a collective of health care workers advocating for "evidence-based policies" with a goal of ending the pandemic.
But that was largely before Omicron, the far more infectious variant that has spread rapidly in B.C. and around the world.
"Right now, we are seeing transmission everywhere. It is fully in the air. It is like measles," said Furness, later adding. "If you don't believe it, wait a couple of weeks and open schools and that would be a horrible way to find out."
Furness said in Ontario, it was clear transmission was happening at a much higher rate in schools shortly before the holiday break.
"There is no doubt in my mind that transmission is going to be happening in schools," he said. "I saw it in Ontario, I saw it in the data and it increased dramatically in that last week before we closed, no question about it."
Even if schools aren't a high source of transmission, Tupper said B.C.'s case numbers have continued to climb at such a high rate that it could lead to widespread infections among staff.
"It is very possible, but far from certain that schools will continue to not be an important part of transmission in B.C. But even without schools, we're heading towards huge, very high case numbers," he said. "We have three different models that we run, and all of them agree that we're going to see many more cases in mid-to-late January. So, can schools run if too much of the staff is infected with COVID?"
The case for in-school learning
At the time of publication, British Columbia and Saskatchewan are the only provinces that have not moved to online learning.
"They are an important place to keep open for all students starting next week," said Henry during the Jan. 4 press conference, adding. "This remains our highest priority."
B.C. did push back its in-school start date for most students to Jan. 10 and announced a range of new measures that include holding staff meetings and assemblies virtually, but the B.C. Teachers Federation has called for dramatic improvements to ventilation at schools and for N95 masks to be made widely available.
Henry, however, has said N95 masks provide "minimal benefit" in a "low-risk setting" such as a school and that best mask is the "one that you wear" properly. She also has stressed that schools are safe spaces and should be kept open.
"We know that schools are safe," said Henry on Jan. 4. "They are the best and safest place for our children and they are essential. They are essential for their social, emotional as well as intellectual development."
Multiple studies have shown that school-age children have better educational and social outcomes when they learn in a classroom compared to online.
According to a recent study that examined 6,578 Canadian students in Grades 4–12 and was published in the Journal of Psychoeducational Assessment in October, elementary school students who learned online felt they mattered less than their peers who attended school in-person.
"If we have to close something down, we want schools to be one of the last things," said Tupper.
One study published by the Center for Disease Control in the United States found that out of 1,920 parents of children ages 5 to 12 surveyed, nearly a quarter of them whose child received online learning in 2020 reported worsened mental health and more than 62 per cent reported a decrease in their child's physical activity. Furthermore, nearly 90 per cent of parents with children who learned remotely reported a decrease in the amount of time their child spent with friends while 58 per cent reported a decrease in the amount of time their child spent outdoors.
Sara Austin, founder and chief executive officer of Children First Canada, a charitable organization that advocates for the wellbeing of kids, said schools should remain open, as long as they are safe environments.
"What we are advocating for loud and clear is that governments need to put every resource possible into ensuring the schools remain open," she said. "This includes ensuring that teachers and other educators are prioritized for boosters, that we do everything possible to ensure that kids are doing the first and second vaccinations and that there is adequate spacing in schools and sanitation measures in place."
Austin, who has an 11-year-old daughter, said the benefits of in-person learning for the vast majority of students and their families often outweigh the benefits of remote online learning.
"We know kids from all socioeconomic backgrounds have been impacted by school closures and that is particularly so for children who are living below the poverty line. However, the parents have no choice but to be working outside of the home and so the kids are often left unsupervised, or with inadequate supervision or inadequate resources to be engaged in online learning," she said.
RELATED: Mixed reaction from parents and teachers after B.C. delays return to school until Jan. 10
Manitoba, New Brunswick, Newfoundland and Labrador, Ontario, Prince Edward Island and Quebec have all moved to online learning for at least the next week or in many cases until Jan. 17. Alberta has shifted to online learning this week but will resume in-person lessons on Jan. 10.
"The closures of schools have become this knee-jerk reaction," said Austin. "Experts have had the information available to them from the very beginning of the pandemic around what's necessary to contain the spread of COVID within our community and to keep schools safely open but there hasn't been the level of political will to that."
Jennifer Heighton, a teacher and community advocate, said during a livestream event organized by Protect Our Province that with so few K-5 students vaccinated, opening schools in B.C. just isn't a good idea right now.
"If you are opening classes when there is such a high transmission in the community then you are upping the chances that there is going to be transmission in the school as well. They will bring it into the school and they will pass it around," said Heighton. "I mean let's face it, they are in a congregate setting, the room is highly occupied with 20 to 30 students and a few staff and the room is not that large. They cannot sit two metres apart, they are more like one metre apart if they are lucky, and they are breathing each other's air for a long time of the day."
At the end of the day, parents, said Austin, have every right to be concerned about sending their children to school but believes keeping schools open, provided they are safe environments, is best. She also said that as a parent herself, she finds it frustrating watching governments continue to treat children as an afterthought.
"Kids really have suffered greatly as a result of school closures. Kids across the country have experienced grief for their mental and physical health. We really do need to prioritize keeping schools open, and putting resources in to ensure schools remain a safe place for them," she said, later adding. "I think so many parents are afraid and feel frustrated and are deeply disappointed by how their children have been treated during this pandemic."
Editor's note: A previous version of this article included language CHEK News has considered inflammatory and unnecessary to the story. It has been removed.