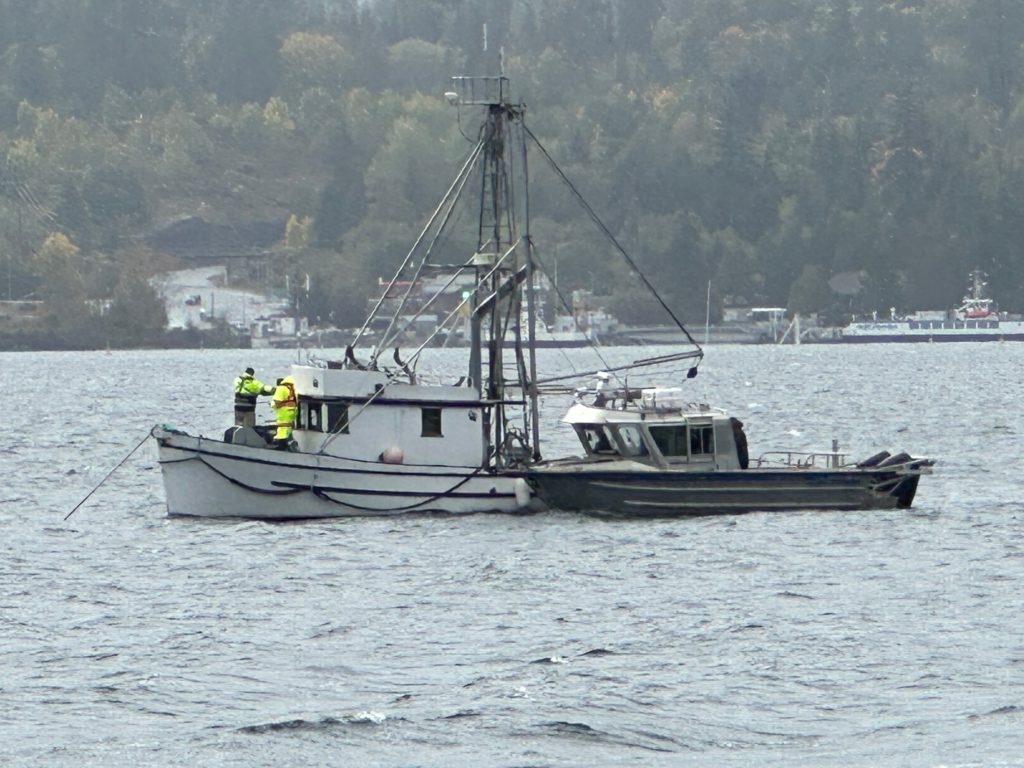 A ferry from Denman Island West to Buckley Bay on Vancouver Island was delayed Monday after a fishing boat got stuck on a cable in the water.
In an updated service notice around 5 p.m., BC Ferries says the Baynes Sound Connector has resumed service in shuttle mode after it was holding near Buckley Bay.
"The anchor line from an active fishing vessel's anchor has been removed from the Baynes Sound Connector cable," said BC Ferries in the notice.
In an earlier notice, BC Ferries said the Coast Guard was on route to help remove the fishing boat's anchor line from the ferry's cable.
"A private vessel in the area dragged anchor in the high winds," spokesperson Deborah Marshall told CHEK News. "The anchor became fouled in one of the Baynes Sound Connector's cables."
The company originally said a derelict boat was to blame for the delays, but an updated notice around 3:15 p.m. said the boat was an active fishing boat.
Crews worked to free the boat after the 1:15 p.m. sailing and subsequent sailings were delayed.
People waiting to catch the ferry sent photos to CHEK News, including one person who said "an empty boat drifted across the lines and got hooked on the lines."
BC Ferries is apologizing to customers for any inconvenience, adding in the notice that it "appreciate(s) your patience…"
#ServiceNotice The anchor line from an active fishing vessel's anchor has been removed from the #BaynesSoundConnector cable. Service has resumed in shuttle mode from #BuckleyBay – #DenmanIslandWest.

More info here: https://t.co/JFCTa3czml ^bt

— BC Ferries (@BCFerries) September 25, 2023
#ServiceNoticeThe #BaynesSoundConnector remains holding near #BuckleyBay. Coast Guard is en route to help remove an active fishing vessel's anchor line from the Baynes Sound Connector cable. We will continue to provide updates.

More info here: https://t.co/SmOaMHWoJE ^bt

— BC Ferries (@BCFerries) September 25, 2023
#ServiceNotice The #BaynesSoundConnector is currently holding near #BuckleyBay due to a derelict vessel. The 1:05 pm sailing ex. #DenmanIslandWest to Buckley Bay will be delayed as we work to free the vessel from the Baynes Sound Connector cable.

More: https://t.co/G1VBJU8IRY^ed

— BC Ferries (@BCFerries) September 25, 2023
RELATED: BC Ferries cancels some Swartz Bay to Tsawwassen sailings