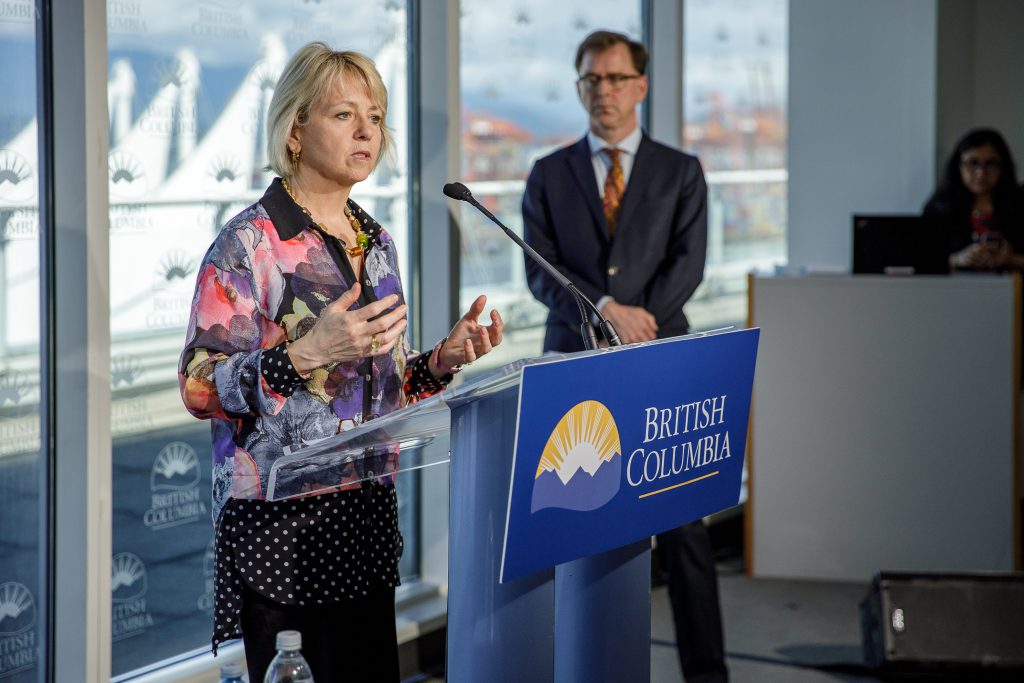 British Columbian health officials announced that there have been 13 new cases of COVID-19 in the province over the last 24 hours.
The provincial total now sits at 2,953 COVID-19 cases since the beginning of the health crisis.
In a joint statement released from Dr. Bonnie Henry and Health Minister Adrian Dix on Friday, the duo said that there were no new cases is in the Island Health region, meaning the total of cases remains at 132.
On Thursday, health officials announced one additional case in the Island Health region, marking the first one since June 22.
Of all the cases in the Island Health region, two are currently active, 125 have recovered and there have been a total of five deaths.
During Thursday's update, the joint statement from Dr. Henry and Minister Dix said there had been no more deaths in British Columbia as a result of the coronavirus, keeping the total at 177.
There are 162 active cases currently in British Columbia.
"Of the total COVID-19 cases, 19 individuals are hospitalized, two of whom are in intensive care. The remaining people with COVID-19 are recovering at home in self-isolation," reads the statement. That is two more in hospital than was announced on July 2.
Dr. Henry added that 2,608 people have fully recovered from COVID-19.
Since the start of the pandemic, there have been 995 cases of COVID-19 in the Vancouver Coastal Health region, 1,553 in the Fraser Health region, 132 in the Island Health region, 202 in the Interior Health region and 65 in the Northern Health region.
We are grateful that there are no new COVID-19 related deaths in the past day.

We are think of everyone who has lost loved ones during this pandemic. COVID-19 has impacted whole communities, & the impact on those who've lost loved ones is something to be specially recognized.

— Adrian Dix (@adriandix) July 3, 2020
In a tweet sent out by Minister Dix on Friday, he said that British Columbian officials are thinking about those who have lost loved ones as a result of the deadly virus.
"COVID-19 has impacted whole communities and the impact on those who've lost loved ones is something to be specially recognized," reads Dix's tweet.
On the positive side, Dr. Henry and Dix have declared that one outbreak at a long-term care facility has officially diminished. The Langley Lodge facility has seen its COVID-19 outbreak come to an end after reporting 25 deaths — the most at any one site in the province during the pandemic.
Outside of that, there have been no new outbreaks at other healthcare facilities in British Columbia. Currently, there are three ongoing outbreaks at long-term care facilities and one active outbreak at an acute-care facility.
"While cases continue to occur in B.C., there are no active community outbreaks," said the statement.
"We encourage British Columbians to show compassion and care to those around us. This is our opportunity to demonstrate how we can all stay safe this summer."
The health officials in British Columbia continue to stress the importance of following the advice of experts, including keeping up with hand hygiene and maintaining adequate physical distance from others.
"Whether you live in B.C., are a visitor from another province or are in Canada for essential travel, we all have to do our part to protect our communities, our Elders and our loved ones," said the statement.
Researchers with Johns Hopkins Univerity and Medicine say the number of known COVID-19 cases is now more than 11 million with more than 523,000 deaths.