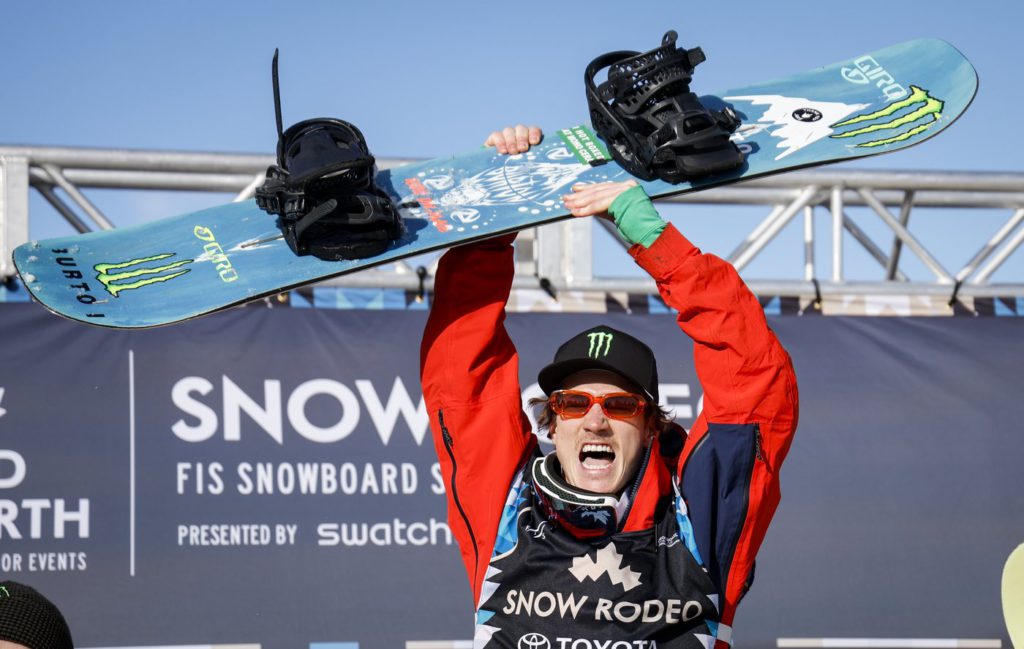 THE CANADIAN PRESS/Jeff McIntosh
A World Cup gold medal already in the bag before his last run, Canadian snowboarder Darcy Sharpe soaked up the moment Sunday in Calgary.
The 27-year-old from Comox, B.C., earned his first career World Cup victory in slopestyle with a top score of 88.85 points in the second of his three runs.
"Run two, huge cheers, and that was the first time in my career being able to do a victory lap, coming down, throwing my hands up and getting a huge roar back was really, really sick," Sharpe said.
The host Canadian team claimed four of six medals Sunday as Sharpe's teammate Cameron Spalding of Moonstone, Ont., took third.
Laurie Blouin of Quebec City was second in the women's final behind winner Julia Marino of the United States.
Jasmine Baird of Georgetown, Ont., was third.
Sharpe won a big air World Cup in Stoneham, Que., seven years ago, but slopestyle has a special place in his heart.
He was the 2020 Winter X Games winner in the discipline in Aspen, Colo.
"I won a big air in 2015 and it's been a long time since then," Sharpe said. "To come back and win a slopestyle, the event I really care about and admire more, it feels really good to get that done."
Calgary's course featured three rails, two jumps and a final rail.
Sharpe messing up the first rail on his opening pass threw his whole run off. He ranked last after one round.
"I had a run planned where my rails were all pretty high level," he said. "I only landed once in practice my rail run, which is not really that normal. Usually the rails are pretty stock and landable, but here, there's four rails and two jumps so I knew (rails) would weigh a lot on the results.
"Going into run two, I was a little nervous, but it's nice having three runs so I didn't have all the nerves on me yet. Flowed into it and did my first rail super-good.
"As these features happen, you kind of get more and more stoked. Your flow states get more and more kicked in."
Sharpe capped his winning run with a flourish — a backside rodeo 720 off the last rail.
"I didn't pick that especially because I was in Canada in Calgary, but it suits pretty well that I finished my run off with a rodeo 720," Sharpe said.
The snowboarders competed under sunny skies and temperatures above zero, but contended with a crosswind out of the west.
"This course kind of rides through the wind not bad," Sharpe said. "It definitely affects the rails a little bit, but when there is wind like this and you know the event is happening anyways, for me at least trying to be smart competitor, I just turn it off in my head.
"You're going to do it no matter what so what's the point of thinking about it, unless you need to think about it for the speed aspect side of things, but it was sideways across us and not affecting speed."
Sharpe is the younger brother of 2018 Olympic freestyle ski halfpipe women's champion Cassie Sharpe.
Dusty Henricksen of the United States was second Sunday behind Sharpe with a score of 82.66 also in the second round.
Spalding scored 77.33 for the first World Cup medal of his career.
Marino, a silver medallist in the 2022 Olympic Games in Beijing, took women's gold with 78.36 points and tops the women's season overall standings.
Blouin scored 76.41 just ahead of Baird with 76.21.
Only 10 women entered the field in Calgary.
Some international boarders skipped it to prepare for the world championship Feb. 19 to March 5 in Bakuriani, Georgia.
Regina's Mark Morris, who won X Games gold last month in Aspen, Colo., also didn't compete in Calgary because of a scheduling conflict with a Red Bull backcountry event.
Sharpe isn't on Canada's team for the world championship because he wants instead to ride Feb. 24-26 in the Dew Tour in Copper Mountain, Colo.
"Getting this win actually makes me feel so much better about that decision," Sharpe said. "It's not traditional slopestyle happening in Colorado, but it is a fun contest with rails and it's still going to be hard, good prize money and all that.
"All the boxes are ticked for it being a reasonable reason to skip world championships.
"These industry events kind of struggle and it's the riders that help bring in the views and all that stuff. I didn't want to let them down by not showing up and going to world champs.
"We've got such a good team in Canada that I trust the rest of the four or five guys that are going to have a spot there to go do what they've got to do to get us some results."
Calgary hosted the fourth of five snowboard World Cups in Canada this season.
Edmonton's big air and para snowboard in Kelowna, B.C., in December, January's alpine parallel giant slalom in Collingwood, Ont., and a snowboard cross in Mont-Sainte-Anne, Que., in March are the others.
Donna Spencer, The Canadian Press
This report by The Canadian Press was first published Feb. 12, 2023.