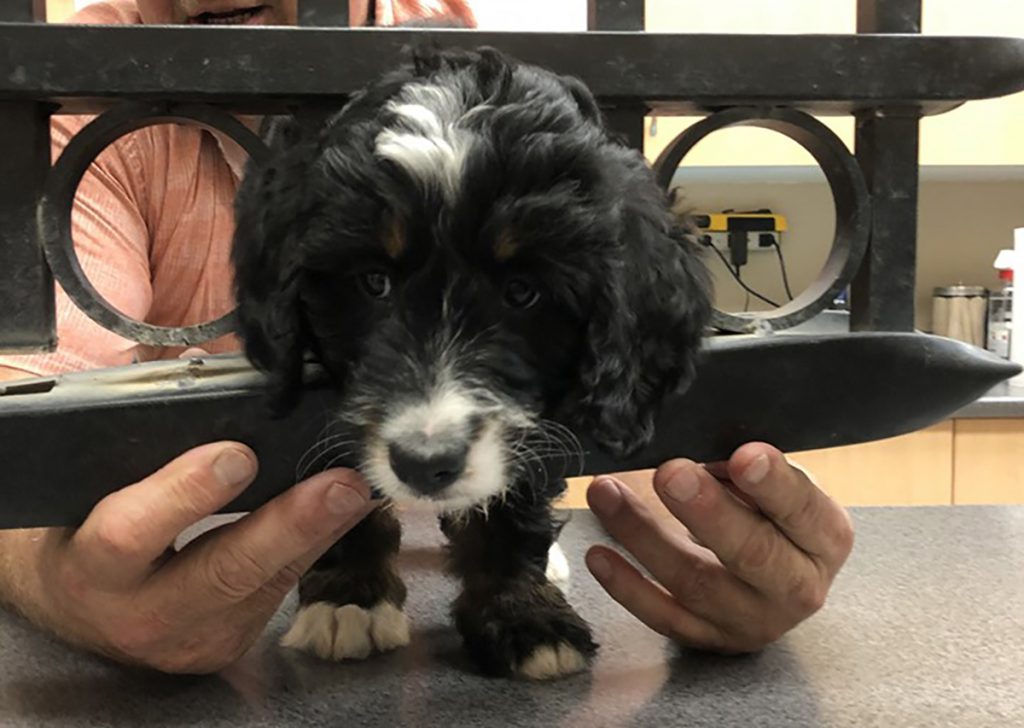 Juan de Fuca Veterinary Clinic
A Colwood dog was helped out of a rather precarious situation by firefighters and vets on Saturday.
The curious eight-week-old Bernese Mountain-cross, named Sophia, got her head stuck into one of the circular portions on an aluminum gate in the afternoon.
The owners contacted Colwood Fire Rescue and the Juan de Fuca Veterinary Clinic. The firefighters used the Jaws of Life to cut a section of the gate. The puppy and the section of the gate were then brought to the vet clinic.
Veterinarian Mark Foley said they tried to manipulate the puppy's head to see if it would come loose. When that didn't work, Foley decided to sedate Sophia.
Foley and another veterinarian, Maureen Stone, then tried to use a wire saw. Foley said he was able to cut through some of the gate before the wires on the saw broke.
When he was going out to his truck to get a hacksaw, Stone was able to get the puppy's head free.
"She was able to kind of turn the head to weasel it back out," Foley said.
The puppy was not physically injured.
"It was more just emotional stress for the puppy and the owners," Foley said.
And while he has seen animals get into some odd situations over the years, Foley said this incident was a first.
"I've never actually seen a dog's head come in with a portion of the gate attached."