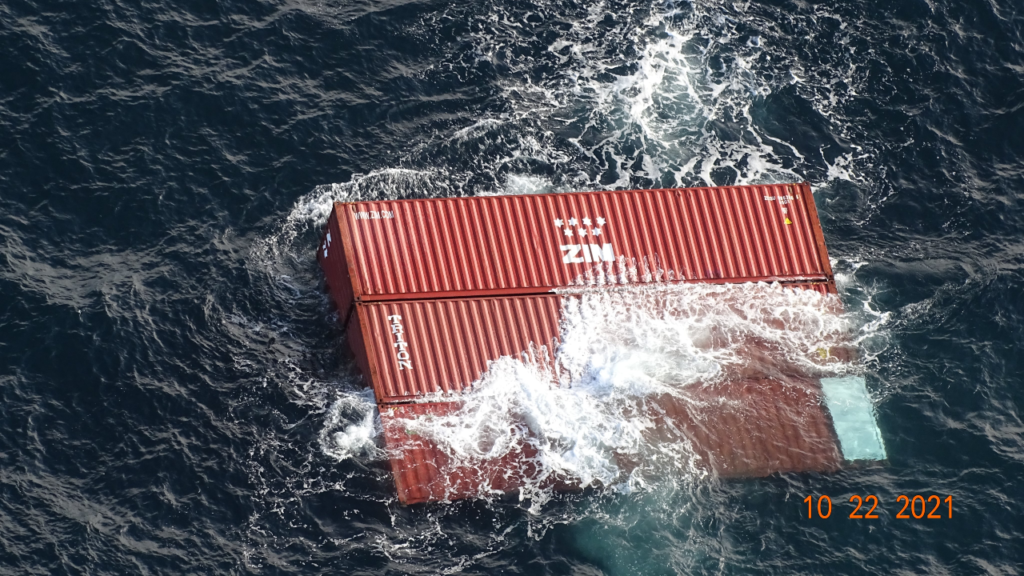 The Canadian Coast Guard has issued warnings to vessels to be careful navigating waters to the west of the Strait of Juan de Fuca after 40 shipping containers went overboard in rough seas.
The Department of Fisheries and Oceans says the Coast Guard's Marine Communications and Traffic Services was notified Friday by a bulk carrier that it had encountered rough weather west of the Strait of Juan de Fuca and lost a number of containers overboard.
The U.S. Coast Guard, which is monitoring the situation alongside its Canadian counterparts, estimates at least 40 containers are in the sea just over 69 kilometres west of the Strait of Juan de Fuca, and it's warning mariners the containers may be partly submerged and not visible.
A Coast Guard helicopter from Port Angeles was sent to the area and the crew was monitoring 35 floating containers as they move north. The ship was headed to Canada when the incident happened, officials said.
Photos from the helicopter captured containers, with one group of three linked together, floating in the water, a Coast Guard Twitter post showed.
#UPDATE: Imagery captured of located containers from U.S. Coast Guard Air Station Port Angeles helicopter. pic.twitter.com/jOr1bbdnW3

— USCGPacificNorthwest (@USCGPacificNW) October 23, 2021
#BreakingNews Coast Guard crews are monitoring several adrift shipping containers 43 miles west of the Straits of Juan de Fuca entrance. An inbound vessel lost approx. 40 containers when the ship listed to its side due to rough seas. Check back for updates. pic.twitter.com/GInKf8M0sB

— USCGPacificNorthwest (@USCGPacificNW) October 22, 2021