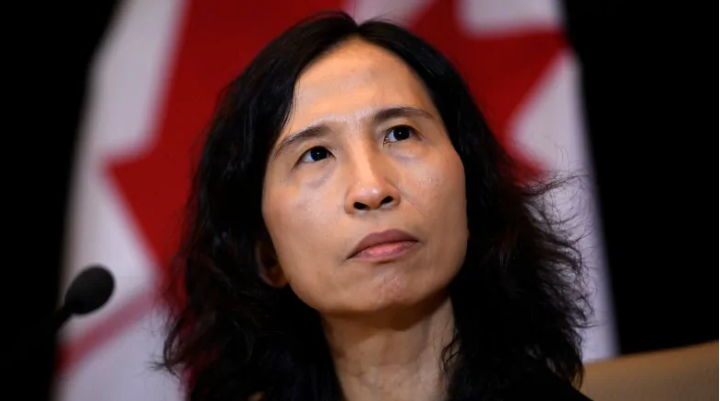 Justin Tang/The Canadian Press
Canada's top public health doctor, Dr. Theresa Tam, is suggesting now that Canadians can wear non-medical masks to help prevent the spread of COVID-19.
At a press conference on Monday morning, Dr. Tam suggested that wearing a mask is a way for someone who might have coronavirus without realizing it, to keep from spreading the illness to others.
The advice marks an about-face change from previous recommendations given by Canadian health officials, including Dr. Bonnie Henry, who have previously said that non-health care workers didn't need to be wearing masks.
Dr. Tam suggests the change in advice is due to updated, ongoing research towards the deadly virus.
"Our collective scientific knowledge of COVID-19 continues to grow," Dr. Tam said during a national address on April 6. "Now that more countries have had a larger number of cases and have analyzed transmission patterns, it is clear that transmission of the virus is happening, more often than previously recognized, from infected people right before they develop symptoms."
Dr. Tam also suggests that asymptomatic transmission, the transfer of the virus from an individual who never develops symptoms, is occurring more as well.
The new scientific research has led Dr. Tam to advise people to consider wearing non-medical masks as an additional protective measure for others around you.
"A non-medical mask can reduce the chance of your respiratory droplets coming into contact with others or landing on surfaces," Dr. Tam said.
She continued to reiterate that wearing a non-medical mask in the community has not yet proven to protect people from contracting the virus and suggested that social distancing measures are not to be ignored if you are wearing a non-medical mask.
Despite the new suggestion, Tam also stated that medical masks still need to be preserved for front-line health workers, so cloth masks and other alternatives are the way to go.
"We are still in a very critical stage of Canada's COVID-19 epidemic and this is no time to relax our preventive measures," added Dr. Tam.
As of Monday morning, nearly 16,000 cases of COVID-19 have been recorded in Canada, to go along with over 290 deaths.
With files to Canadian Press.