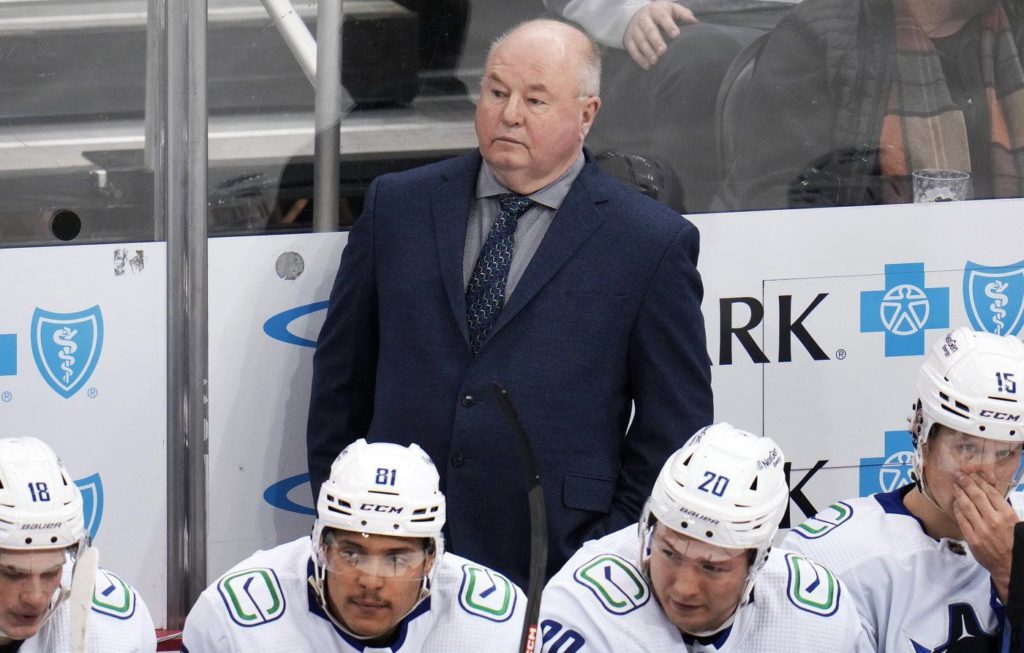 THE CANADIAN PRESS/AP-Gene J. Puskar
Canucks coach Bruce Boudreau stood on the bench Saturday night, clapping for the crowd and trying to soak in a bittersweet moment.
Vancouver had just dropped a 4-2 decision to the visiting Edmonton Oilers — the team's third loss in four nights — but chants of Bruce, there it is!" to the tune of Tag Team's "Whoomp! (There it is)" still echoed around Rogers Arena.
Expectations are that Boudreau will be fired in the coming days and the veteran NHL bench boss treated Saturday's game as if it were his last.
"You never know if it's the end," he told reporters after the game, tears welling in his eyes. "So when you've been in it for almost 50 years — you know, the majority of your life — and now if it's the end, I had to stay out there and look at the crowd and just try to say, 'OK, try to remember this moment type of thing.'"
Players weren't sure whether to stay on the ice and tap their sticks for their coach or to head down the tunnel, veteran defenceman Luke Schenn said of the "wild" scene.
"In the dressing room, guys were sitting around here and kind of almost speechless," he said. "A lot of times after a loss, guys are mad or ticked off or whatever about the way they played. But this wasn't about the game. It was more the feeling for Bruce."
After falling behind 3-0 midway through the second period Saturday, the Canucks (18-25-3) clawed back two goals and looked to even the score late in the third.
Instead, the surging Oilers (27-18-3) took a sixth straight win.
"We wanted to play right to the very end for (Boudreau)," said Canucks captain Bo Horvat. "He coached every game like it was his last and, for us, we would have loved to pull one out there for him. But obviously, it wasn't good enough there."
Edmonton's stars shone in the performance, with Zach Hyman contributing a goal and three assists while Ryan Nugent-Hopkins scored into an empty net and contributed a pair of helpers. Connor McDavid had a goal and an assist and Leon Draisaitl rounded out the scoring.
Depth has been key to the team's recent success, McDavid said.
"We're getting contributions from everybody. Whether it's on the score sheet or playing physical or blocking a shot or being solid defensively, I think we're getting contributions up and down the lineup," he said.
"And then a little maturity. We've found ourselves in some tight games and finding a way to close them out and that's a big part of winning."
Andrei Kuzmenko and J.T. Miller replied for the Canucks, who fell to 1-9-0 in their last 10 outings. Quinn Hughes registered two helpers.
Stuart Skinner made 27 saves for Edmonton and Vancouver's Spencer Martin stopped 25-of-28 shots.
The Canucks peppered Skinner with shots early, but it was the Oilers who opened the scoring 1:26 into the game.
Hyman dished the puck to McDavid at the offensive blue line and the superstar sprinted past Vancouver's Tyler Myers on a breakaway, then put a shot through Martin's five hole for his league-leading 40th goal of the season.
With four points on the night, Hyman now sits at 56 on the season, setting a new career high. The 30-year-old winger had 54 points in his first campaign with the Oilers last year.
"Whenever you come to new team it's a little bit difficult in the beginning, obviously," Hyman said.
"I felt like I had a really strong year last year and felt good and felt really strong in the playoffs. And I wanted to kind of take it into this year. I feel comfortable here, obviously."
Special teams
Edmonton went 1-for-1 with the man advantage Saturday and Vancouver was 0-for-2.
The Oilers came into the game boasting the league's best power play (30.6 per cent) while the Canucks had the NHL's worst penalty kill (66.4 per cent).
Gone streaking
Three Oilers extended their point streaks on Saturday. McDavid is up to 10 games, with eight goals and eight assists across the stretch, while Draisaitl (six goals, five assists) hit the score sheet for a sixth straight outing. Hyman has four goals and eight assists across a five-game stretch.
Vancouver's Kuzmenko is also on a roll with two goals and three assists in four appearances.
Rack 'em up
The Oilers have averaged five goals per game across their current six-game win streak. They came into Saturday's matchup third in the league in goals per game this season at 3.70.
Up next
Canucks: close out a four-game homestand Tuesday against the Chicago Blackhawks.
Oilers: host the Columbus Blue Jackets on Wednesday.
This report by The Canadian Press was first published Jan. 21, 2023.