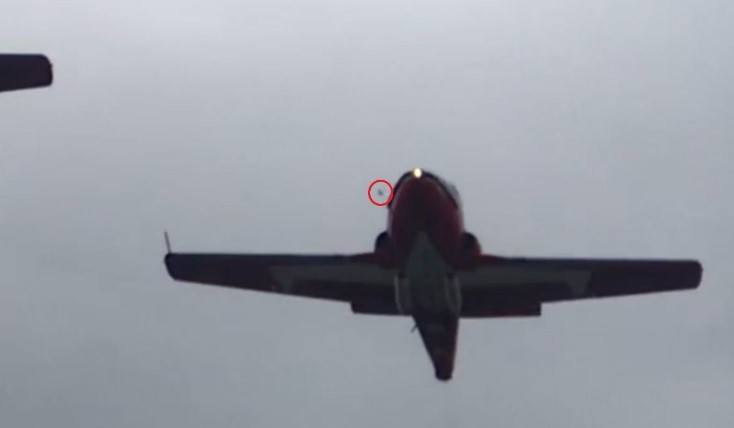 The Royal Canadian Air Force says it's focusing on a bird strike as the reason a Snowbird plane crashed in British Columbia last month.
A preliminary investigation report posted on Monday says a close look at video footage of the plane just before the crash showed a bird very close to the plane's right engine intake "during the critical phase of take-off."
Although early results are pointing to a bird as the root cause, an investigation into the crash remains underway as the Royal Canadian Air Force suggests it is further looking into the Snowbirds' cockpit escape system.
"During any Flight Safety investigation, we focus on completing a thorough, accurate and professional investigation. While we might quickly understand what happened in an accident, the most difficult work of an investigation begins as we peel back the layers to understand why and how this happened. We are laser-focused to understanding everything we can about the accident so we can recommend effective preventative measures to help reduce the risk of future occurrences," said Colonel John Alexander, Director of Flight Safety and Department of National Defence's Airworthiness Investigative Authority.
The crash near Kamloops killed air force Capt. Jenn Casey, a public-affairs officer riding as a passenger, and seriously injured the pilot.
Though the plane crashed in a populated area, nobody on the ground was badly injured.
"Our thoughts remain with Captain Jenn Casey's family, the Snowbirds, and the Public Affairs Branch. I'm relieved to see that Captain Richard MacDougall has returned home and we wish him well in his continued recovery," said Lieutenant General Al Meinzinger, a Commander with the Royal Canadian Air Force  "The Snowbirds continue to represent the professionalism, discipline and sense of team that are hallmarks of our institution. We are committed to safely returning them to the skies in due course."
Capt. Casey had previously attended Royal Roads University here on Vancouver Island and was a former journalist before she joined the military in 2014. She had been a member of the Snowbirds since 2018.
The Snowbirds were on a cross-country tour at the time of the crash, performing over cities and towns to try to raise morale a little amid the COVID-19 pandemic.
The air force's report says the investigation will continue to probe the possibility of a bird strike and whether the Tutor jet's escape devices worked properly.
With files to Canadian Press