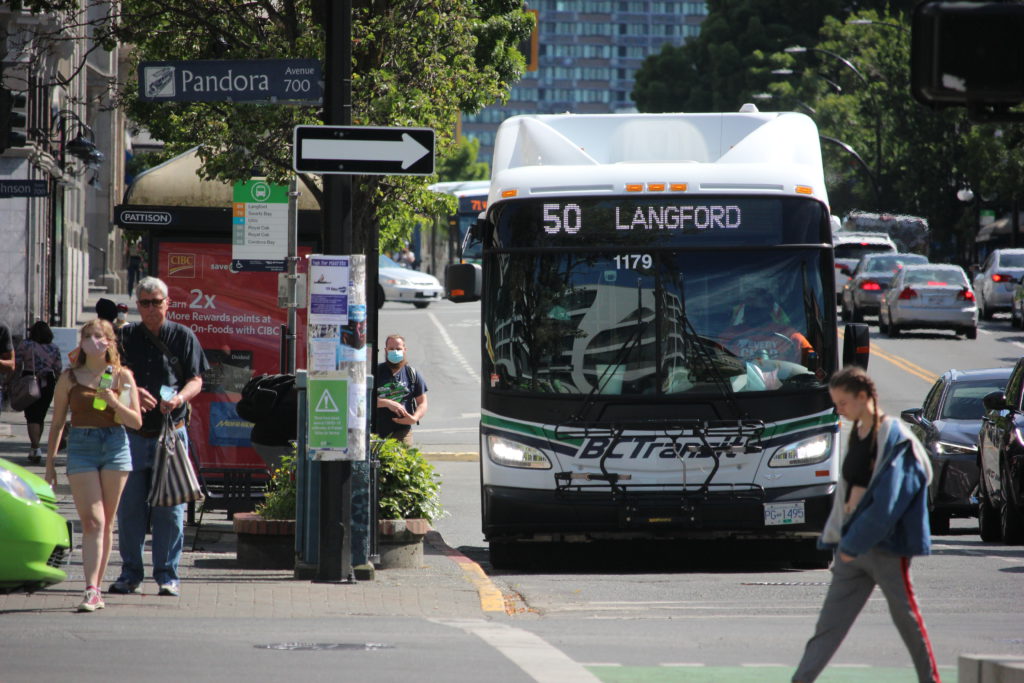 A new bus route from BC Transit aims to move riders from the West Shore to Victoria faster, more often and with fewer delays.
BC Transit's new RapidBus Service will phase in over time to replace the current 50 route which connects the West Shore to Victoria, starting April 10.
BC Transit will be adding more buses to the route.
It is one of several key features that aim to shorten the current time it takes to get between the two areas, according to BC Transit. It's promising seven-minute turn-around times during rush hour, reduced stops and improved transit infrastructure to improve the commute.
Transit riders are excited about that possibility.
"They were supposed to be adding a ton more time to that route a long time ago so it's way overdue," Mark Tod told CHEK News.
Deborah MacCaskill said more buses would be very welcomed. "They you wouldn't have to wait like right now," she added.
BC Transit said in a news release the program will "outperform the personal automobile in speed, comfort and reliability."
"I'm a transit rider myself, everyday. When you're on the top floor of a double-decker, there's nothing sweeter than being in the bus lane passing all that traffic and contestation," said Matthew Boyd, the agency's director of corporate and strategic planning.
Optimizing how the bus gets around is a key part of the project.
Currently, there are several priority bus lanes, such as the one between Tolmie and Hillside Avenue that give transit a priority over regular traffic. In the the Victoria Regional RapidBus Implementation Strategy, the plan outlines several other key components the agency would like to focus on in the near future, such as:
Off-vehicle fare payment,
All door boarding,
Signal priority
Further separation from traffic
Limiting stops to key locations
It's not yet clear which stops will be removed as a part of the plan but according to Boyd, it all stems from user surveys and customer feedback.
"We did some public engagement in regards to this service, with lots of feedback, lots of ridership data. With that being said if there's opportunities to improve our service based on customer feedback were always looking to do more," he said in a phone interview with CHEK.
According to Boyd, Route 50 is the transit agency's most popular route with approximately 10,000 passengers boarding each day.
This marks the beginning of Phase One of the RapidBus project, with two other phases still in the works.
The second phase hopes to replace the current route between Uptown and the University of Victoria (Route 26) with a similar RapidBus line, and the third phase aims to do the same between the Swartz Bay ferry terminal and the downtown core.
RELATED: People with mobility issues call for change as Greater Victoria bus stops piled with snow