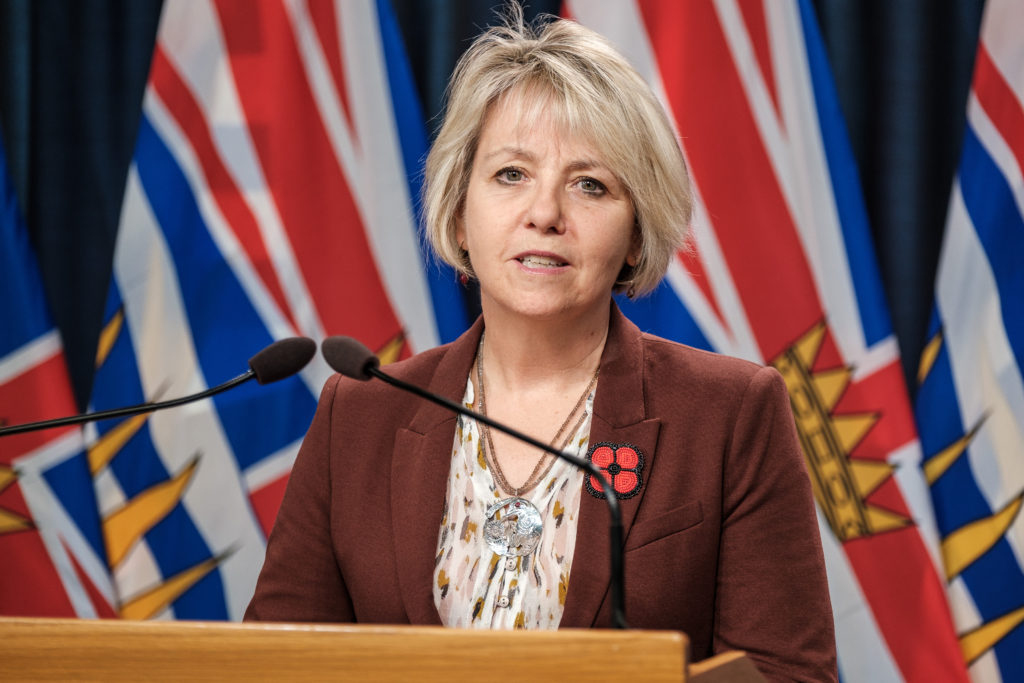 British Columbia reported 425 new COVID-19 cases over the past 24 hours, setting a daily record for the second time this month.
The last daily record was 389 cases from Saturday, Oct. 31 to Sunday, Nov. 1.
Four of the new cases reported on Thursday, Nov. 5 are epidemiologically-linked, meaning people who were never tested but were presumed to have COVID-19 because they developed symptoms and were close contacts of a laboratory-confirmed case.
No new COVID-19 deaths were reported Thursday. B.C.'s COVID-19 death toll remains at 273.
B.C. has now had a total of 16,560 cases since the start of the pandemic including 281 in Island Health (seven more than Nov. 4), 5,223 in Vancouver Coastal Health (126 more than Nov. 4), 9,707 in Fraser Health (268 more than Nov. 4), 811 in Interior Health (eight more than Nov. 4), 438 in Northern Health (six more than Nov. 4).
There are no new cases among people who reside outside of Canada (visitors and temporary foreign workers). That group's total number of cases remains at 90.
There are 3,389 active cases as of Thursday (269 more than Nov. 4). Ninety-seven people are in hospital with COVID-19 (five more than Nov. 4), with 24 in intensive care (one fewer than Nov. 4). A total of 12,806 people have recovered and 7,519 people are under active public health monitoring as a result of identified exposure to known cases (386 more than Nov. 4).
There were 11,020 new tests done, making B.C.'s positivity rate is 3.8 per cent, according to Dr. Bonnie Henry, the provincial health officer.
There are two new healthcare outbreaks. One healthcare outbreak has been declared over. There are 30 active outbreaks: 28 in long-term care and two in acute care.
Henry said B.C. within the ability to respond to cases now and scheduled surgeries do not need to be cancelled, but it is something being watched very closely. There are concerns if healthcare workers are sick, or they may have inadvertently exposed others and have had to isolate
No new community outbreaks have been reported. The École de l'Anse-au-sable school outbreak in Kelowna has been declared over and students can return to school on Friday.
Henry says new data modelling update will come next Thursday.
She also said we are "all concerned" with recent numbers and if someone in a social circle has COVID-19, other people who are also in that social circle are at a higher risk.
Henry said the province did anticipate an increase in COVID-19 cases as more people spend time indoors during the cooler weather.
"It is incredibly important we manage this increase effectively," she said. 
Henry is once again asking people to slow the spread of COVID-19 by staying local, by only spending time with your household, by staying with your safe six, and by following the safety protocols.
B.C. Health Minister Adrian Dix asked people to just say no to house parties.
"Don't throw. Don't go. Say no," he said.
Island Health
Island Health has 26 active cases: 12 on southern Vancouver Island, six on central Vancouver Island and eight on northern Vancouver Island.
There are no COVID-19 hospitalizations in Island Health and 249 people have recovered.
Southern Vancouver Island includes the Greater Victoria region, Southern Gulf Islands and the Port Renfrew area.
Central Vancouver Island includes the Cowichan Valley, Duncan, Nanaimo, Parksville, Port Alberni and Tofino areas.
Northern Vancouver Island goes from the Comox Valley to Port Hardy but also includes surrounding areas like Alert Bay and Sointula.
More COVID-19 information
If there is a confirmed COVID-19 case in a school, public health contacts affected school community members directly. Regional health authorities also post school notifications on their websites, providing the date and type of notification (outbreak, cluster or exposure) for impacted schools.
The Island Health school site can be found here.
B.C. has posted detailed information about the geographic distribution of COVID-19 cases from January to September 2020. This map will be updated monthly, according to B.C. health officials.
Island Health's COVID-19 data breaks down North, Central and South Island case counts and lists the number of days since any new lab-diagnosed cases. You can find the data here along with any public exposures.
To see B.C.'s COVID-19 numbers by day and health authority, along with testing numbers, positivity rates and recoveries, visit the B.C. COVID-19 dashboard.  The numbers are updated at 4:30 p.m. PT each weekday.
To see a list of all provincial public COVID-19 exposures in the province, including links to exposures listed on health authority websites, visit the B.C. Centre for Disease Control website ( BC CDC) here.
And the BC CDC has set up a COVID-19 epidemiology dashboard, which compares B.C. to other jurisdictions nationally and globally. It will be available on Tuesdays and Fridays.
According to Johns Hopkins University and Medicine, the number of confirmed COVID-19 cases worldwide is more than 48.4 million. More than 1.2 million deaths have been recorded.
Watch Dr. Bonnie Henry and Minister Adrian Dix on Nov. 5: 
With files from The Canadian Press and CBC