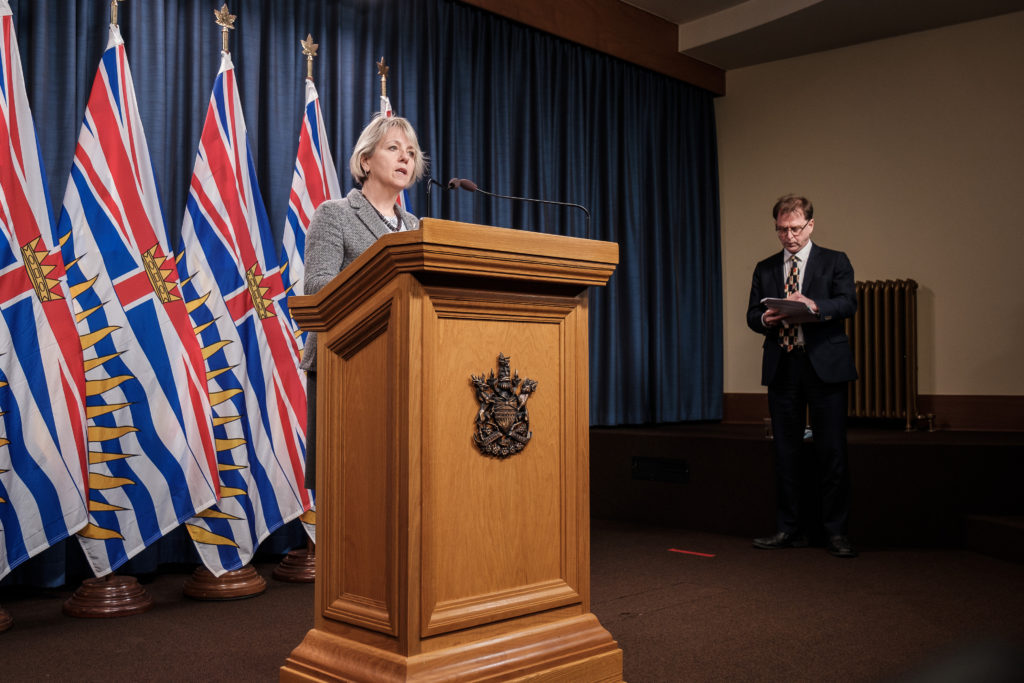 Province of BC/File photo
For the second day in a row, British Columbia broke its daily record of new COVID-19 cases with 762 new cases recorded in the last 24 hours.
Three of the new cases are epidemiologically-linked, meaning people who were never tested but presumed to have COVID-19 because they developed symptoms and were close contacts of a laboratory-confirmed case.
And ten new deaths were reported on Wednesday, bringing B.C.'s COVID-19 death toll to 320 deaths.
This is the second-highest number of deaths recorded in a day since the pandemic began. Nov. 17 was the highest daily death toll with 11 deaths.
Dr. Bonnie Henry, B.C.'s provincial health officer, and Adrian Dix, Minister of Health, issued Wednesday's numbers in a statement.
There are 20 new cases in the Island Health region, 210 in the Vancouver Coastal Health region, 481 in the Fraser Health region, 38 in the Interior Health region, 13 in the Northern Health region and no new cases of people who reside outside of Canada.
B.C. has now had a total of 24,422 cases since the start of the pandemic.
There are 6,861 active cases of COVID-19 in the province (272 more than Nov. 17). A total of 209 hospitalized with COVID-19 (11 more than Nov. 17), 58 of whom are in intensive care (five fewer than Nov. 17).
There are 9,871 people under active public health monitoring as a result of identified exposure to known cases (1,089 fewer than Nov. 17) and 16,914 people who tested positive have recovered.
And there are three new health-care facility outbreaks at Agecare Harmony Court Estates, Menno Home and Peace Villa. The outbreak at Normanna has been declared over.
There have been no new community outbreaks and the outbreak at La Casa Resort has been declared over.
"We have seen a rising number of new cases of COVID-19 across the province and we need to slow this down. We need to put the brakes on the virus and doing this requires a sustained effort by all of us," Henry and Dix said in Wednesday's statement.
"This second surge is putting a strain on our health-care system, our workplaces and us all. We need to ease this pressure so we can continue to manage the virus in our province and also continue to do the many activities that are important to us."
Island Health
Island Health has 118 active COVID-19 cases: 31 in the southern Vancouver Island area, 71 in the central Vancouver Island area and 16 in the northern Vancouver Island area.
The health authority has had 417 cases since the start of the pandemic. According to the B.C. COVID-19 dashboard, there are currently two people with COVID-19 in hospital in Island Health, with one in intensive care. A total of 293 people have recovered in Island Health and there have been six deaths since the start of the pandemic.
More COVID-19 information
If there is a confirmed COVID-19 case in a school, public health contacts affected school community members directly. Regional health authorities also post school notifications on their websites, providing the date and type of notification (outbreak, cluster or exposure) for impacted schools.
Island Health has six current COVID-19 school exposures listed:
A cluster at Dover Bay Secondary, 6135 McGirr Rd. Nanaimo on Nov. 2, 5, 6.
A cluster at John Barsby Secondary 550 Seventh St. Nanaimo. The first exposure was on Nov. 5,6. The second exposure was Nov. 9, 10.
An exposure at Frank J Ney Elementary 5301 Williamson Rd. Nanaimo on Nov. 12.
A cluster at Randerson Ridge Elementary 6021 Nelson Rd., Nanaimo on Nov. 4,5,6, 9, 10
An exposure at Ladysmith Secondary School 710 6th Ave. Ladysmith on Nov. 9, 10, 12, 13
An exposure at Alberni District Secondary School 4000 Roger St. Port Alberni on Nov. 12, 13
The Island Health school site can be found here.
Island Health's COVID-19 data breaks down North, Central and South Island case counts and lists the number of days since any new lab-diagnosed cases. You can find the data here along with any public exposures.
To see B.C.'s COVID-19 numbers by day and health authority, along with testing numbers, positivity rates and recoveries, visit the B.C. COVID-19 dashboard.  The numbers are updated at 4:30 p.m. PT each weekday.
To see a list of all provincial public COVID-19 exposures and outbreaks in the province, including links to exposures and outbreaks listed on health authority websites, visit the B.C. Centre for Disease Control website ( BC CDC) here.
Island Health has two current COVID-19 outbreaks. One was reported on Nov. 11 at the Nanaimo Regional General Hospital after transmission in the transitional care unit. Five staff members tested positive and Island Health said Tuesday no other new COVID-19 cases had been associated with the outbreak to date.
The other outbreak was reported on Nov. 16 at the Tsawaayuss (Rainbow Gardens) long-term care home. That outbreak, which was declared after a staff member tested positive, is confined to the long-term care building.
There is also a possible COVID-19 exposure at Browns Socialhouse at 1661 Cliffe Ave. in Courtenay between 3 p.m. and 4 p.m. on Nov. 3 and 3 p.m. and 4 p.m. on Nov. 5.
Island Health provides updates on the locations and times of known possible exposures to COVID-19 to the public in our region when they are unable to reach or identify all individuals potentially exposed via contact tracing. A close contact exposure means face-to-face contact for an extended period of time with a person who is infectious.
The possible exposures listed are believed to be low risk but, out of an abundance of caution, Island Health asks that anyone who may have visited any of the locations listed on the specified dates and times to monitor themselves for COVID-19 symptoms.
And the BC CDC has set up a COVID-19 epidemiology dashboard, which compares B.C. to other jurisdictions nationally and globally. It will be available on Tuesdays and Fridays.
According to Johns Hopkins University and Medicine, the number of confirmed COVID-19 cases worldwide is more than 56 million. More than 1.3 million deaths have been recorded.
Assisted-living, long-term care homes, seniors' rental buildings and acute-care facilities in B.C. with ongoing COVID-19 outbreaks
Assisted-living, long-term care homes and seniors' rental buildings:
Vancouver Coastal Health – nine facilities
Arbutus Care Centre (second occurrence)
Banfield Pavilion
Capilano Care Centre
Columbus Residence
Fraserview Intermediate Care Lodge
Holy Family Hospital (fourth occurrence)
Louis Brier Home & Hospital
Royal Arch Masonic Home (second occurrence)
Three Links Care Centre
Fraser Health – 29 facilities
Agassiz Seniors Community
Agecare Harmony Court Estates
Al Hogg Pavilion (second occurrence)
Amenida Seniors Community
Belvedere Care Centre
Chartwell Langley Gardens (second occurrence)
Dania Home (second occurrence)
Evergreen Baptist Care Society
Fellburn Care Centre
Finnish Manor
Fort Langley Seniors Community
George Derby Centre (second occurrence)
Good Samaritan Delta View Care Centre
Harrison Pointe
Hawthorne Senior Care Community – assisted living
Hawthorne Seniors Care Community – long-term care
Holyrood Manor
Jackman Manor
Kiwanis Care Centre
Laurel Place
Menno Home
Northcrest Care Centre
Peace Portal Seniors Village (second occurrence)
PICS Assisted Living (third occurrence)
Suncreek Village
Tabor Home (second occurrence)
The Harrison at Elim Village (second occurrence)
The Residence in Mission
White Rock Senior Village (second occurrence)
Northern Health – two facilities
Peace Villa
Rotary Manor Dawson Creek
Interior Health – three facilities
Hamlets at Westsyde
Sun Pointe Village
Village by the Station
Island Health – one facility
 Tsawaayuss-Rainbow Gardens
Acute-care facilities:
Burnaby Hospital
Langley Memorial Hospital
Nanaimo Regional General Hospital
Ridge Meadows Hospital
Surrey Memorial Hospital