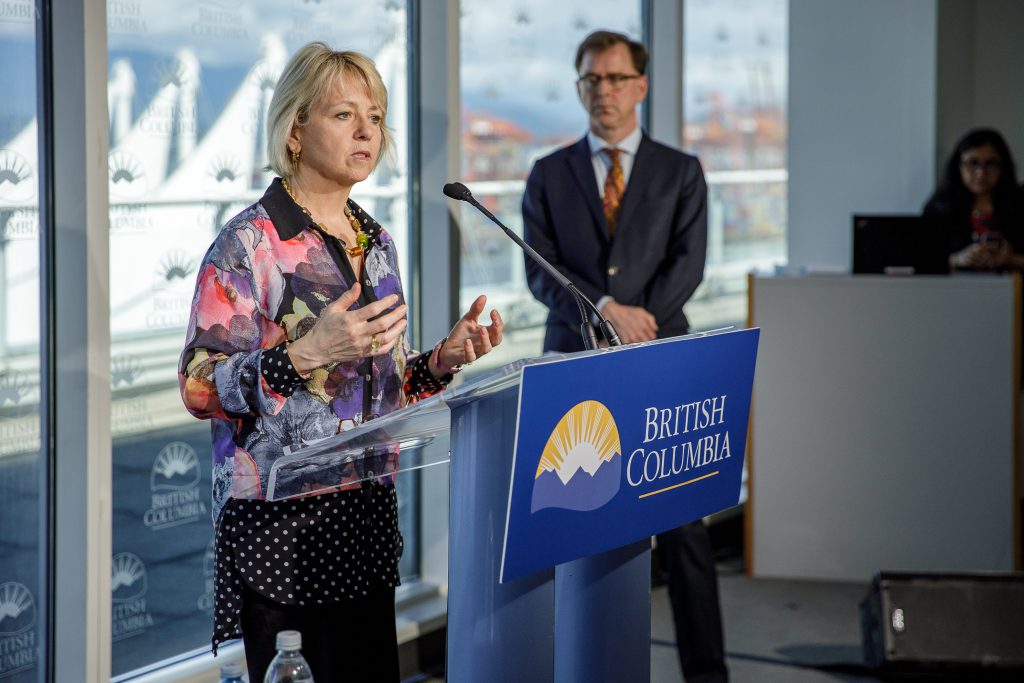 Province of BC/File photo
B.C. health officials are reporting eight new cases of COVID-19 in B.C. as of June 18, with none of the new cases in Island Health.
There have now been 2,783 COVID-19 cases in B.C. since the pandemic began. Of those, there have been 130 cases in Island Health. Of those, 125 have recovered and there have been five deaths.
Elsewhere, there have been 950 cases in Vancouver Coastal Health, 1,441 in Fraser Health, 197 in Interior Health and 65 in Northern Health.
There are no new deaths as of Thursday. There are 190 active cases in the province, with 10 in hospital (one fewer than June 17) and five in intensive care.
A total of 2,425 people have recovered.
Of the new cases announced Thursday, one is an adult at an independent school in the Fraser Health region. A small number of close contacts have been notified and no children have been affected at this time.
The school has stopped in-class learning for the remainder of the school year.
"Given that we still have spread of COVID-19 in our communities, this is not surprising and it is something that we were preparing for, monitoring as children and teachers and educators went back to in-classroom schooling at the beginning of the month," Dr. Bonnie Henry, the provincial health officer, said.
There are no new health or community outbreaks.
However, Henry said the recent outbreaks highlight that seniors and elders are the most vulnerable, which is why there are precautions at long-term care facilities. Henry said she understands the restrictions on visitors comes at a very high cost for families.
There continue to be six active outbreaks in long-term care and one at Mission Memorial Hospital. Two new health-care facility outbreaks were announced on Wednesday, at the Mission Memorial Hospital and Tabor Home in Abbotsford.
The outbreak at Tabor Home and at the Maple Hill long-term care facility announced Tuesday are connected to the outbreak at Mission Memorial Hospital.
And the outbreak at the Nature's Touch frozen fruit plant in Abbotsford has been declared over, leaving three remaining active outbreaks in the community.
She said the province needs to continue to have COVID-19 measures in place to limit the spread of the disease.
She is "cautiously optimistic" about the province entering Phase 3 of its restart plan next week and as guidance becomes available for different sectors but says the last week has been challenging, with concerning clusters and events.
Also on Thursday, B.C. Health Minister Adrian Dix Minister announced that B.C. has caught up with the average weekly surgery numbers (6,000).
From June 8 to 14 there were 6,291 surgeries (4,955 elective, 1,336 unscheduled. From April 6-12, there were 2,776 surgeries (972 elective, 1,104 unscheduled).
Dix also said the Single Site Staff Initiative for long-term care homes has been successful, with all 501 sites across all health authorities becoming 100 per cent single-sites. A total of 8,878 employees that previously went to multiple sites are now assigned to a single site.
"This is important. It's important to the work — not just make announcements," Dix said.
Dix said the continuing evidence that B.C. has flattened the curve of infection should serve as evidence of the power everyone has to determine the future.
"I hope each of us knows in B.C. we chose to fight. We made tremendous sacrifices. We followed our own lead. We listened to Dr. Bonnie Henry," he said.
Meanwhile, a British Columbia park that straddles the 49th parallel with Washington state will be closed because it's overwhelmed with visitors using it as a cross-border meeting point.
The government says Peace Arch Provincial Park was scheduled to be shut Thursday evening to address public safety and traffic concerns after the volume of visitors reached nearly twice the number counted on a peak summer day.
"The significant increase in visitors at Peace Arch Park has become unmanageable and raising public safety and traffic concerns for surrounding communities," Environment Minister George Heyman said in a statement.
BC Parks said it has consulted with the RCMP, border officials and local communities and will manage the growth of visitors with new measures, such as reducing park hours and installing a gate at the entrance.
But that hasn't addressed the risks associated with the significant increase in visitors from both sides of the border, it added in a statement.
Heyman and BC Parks acknowledged the difficulties those with loved ones across the border have faced in trying to stay in contact, but emphasized the risks of keeping the park open had grown too large.
BC Parks expressed hope that exemptions to the Quarantine Act would also help soften the blow for those who have family members across the border.
READ MORE: More than 7,500 tourists, shoppers try to enter Canada despite COVID-19 travel ban
The federal government is allowing immediate family members of Canadian citizens or permanent residents to enter Canada with family members as long as they have no symptoms of COVID-19 and self-isolate for 14 days after arrival.
Kimiko Carpoff, who lives on the border, said she's noticed an increase in traffic since the park reopened in May but disagrees with the decision to close it.
"What, we're supposed to play on the street? Sit on the street? People use the park because it's a park," she said. "Personally, I think it's much more problematic to close the park. It's our green space."
A spokeswoman for Washington state said there are no plans to close the park on the American side.
"While our parking lots have been full most days, we do not have the same challenges as our Canadian counterparts and do not have any safety concerns at this time," Anna Gill of the Washington State Parks and Recreation Commission said in an email.
The Canadian side of the Peace Arch Park was officially dedicated in 1939, 18 years after the creation of its famous arch.
To see B.C.'s COVID-19 numbers by day and the number of tests, visit the BC COVID-19 dashboard. 
Researchers with Johns Hopkins University and Medicine say the number of confirmed COVID-19 cases globally is more than 8.4 million globally, with more than 451,000 deaths. The United States continues to have the highest number of cases and deaths, followed by Brazil.
The number of confirmed and presumptive cases of COVID-19 across the country has now surpassed 100,000
Watch Dr. Bonnie Henry and Health Minister Adrian Dix on June 18, 2020 below: 
With files from The Canadian Press and CBC