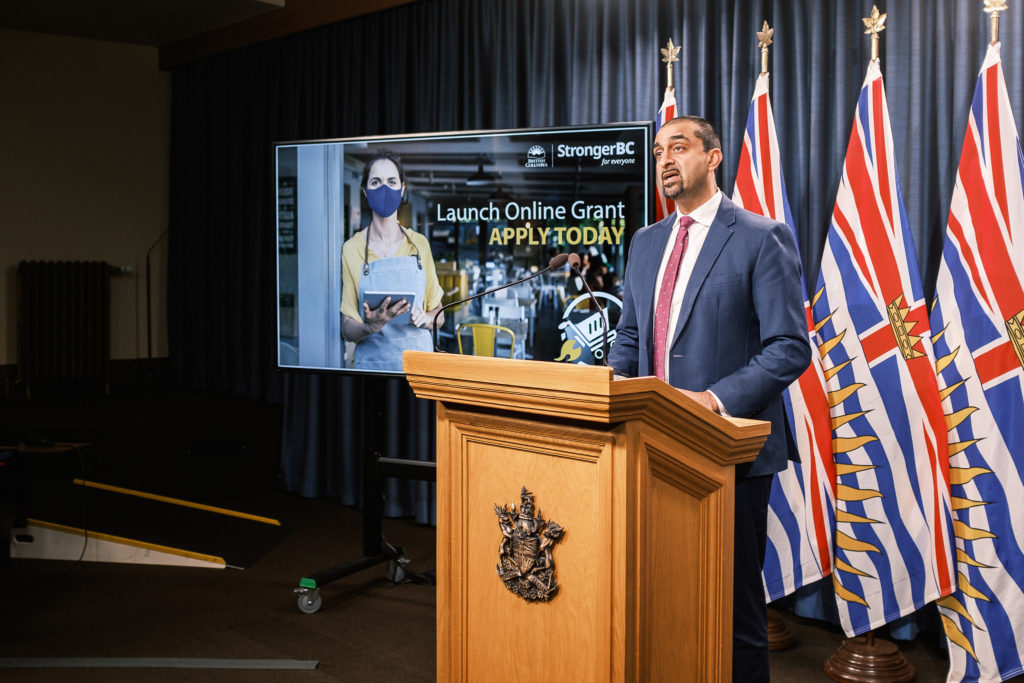 B.C. small businesses looking to sell their goods online during the pandemic might qualify for a new $7,500 grant announced Wednesday by the provincial government.
Economic Recovery Minister Ravi Kahlon said the grants will allow businesses to hire B.C. tech companies to develop websites, create e-commerce capabilities, train staff and fund online advertising for up to a year.
The funding of $12 million could help 1,500 businesses, said Kahlon. Roughly one-quarter of the funds will be earmarked for rural and Indigenous businesses, he said.
"Covid has changed the way we do business and with many moving online business practices we thought were five to seven years away are here now," he said.
"Many have had to adapt to ensure they can continue to operate and we want business in B.C. to be on the cutting edge of that shift. Now is the time for them to build their online sales so they can have the opportunity to be more competitive and grow."
David Nicholls, general manager of Vancouver Island Brewing, said the grant money will help businesses such as his improve their online store so that customers see fewer errors, timeouts and frustrations when trying to complete a purchase.
READ MORE: B.C. business grant program less than one-quarter spent
"We're very excited about the online launch grant program," he said.
However, Kahlon also faced questions about the slow uptake of the province's larger $300 million grant program for small and medium-sized businesses. Only $12 million has actually been allocated as of Wednesday, even though the program opened in September.
Tourism businesses in particular have complained that almost all of the funding has sat unused while their operators have struggled and in some cases closed due to the health and travel restrictions caused by the pandemic.
The rules of the larger program were so strict when it launched in September that it was virtually unusable, but Kahlon said after he changed the criteria in December he's seen more than 6,500 applications flood in.
"If that trend line continues we'll be in a really good place," he said. "But we'll continue to monitor that for the coming weeks and make decisions accordingly."
Opposition Liberal critic Todd Stone said the government has "botched" the first grant program and he has little confident it won't bungle this new one as well.
"Why launch a new program while the majority of funds for the existing small and medium-sized Business Recovery Grant program are still stuck in the NDP's hands as the March 31 deadline to get them out the door approaches?" he asked. "This is just another example of the NDP scrambling to look like they have a plan when they don't."
B.C.'s small business sector welcomed the online grant program but expressed concern at the lack of uptake on the larger program.
"It is a positive program," said Muriel Protzer, of the Canadian Federation of Independent Business. "The program itself at first glance is quite small, only totalling $12 million allocated to small business owners. So maybe just a couple of thousand small businesses actually able to access this funding. It will certainly help those businesses transition more online."
However, service-based businesses like auto repair shops, laundromats and others won't be able to access the funds because online grants aren't suitable for their business model, she said.
Protzer called on Kahlon to open up criteria on the larger $300 million grant program, saying it should include newly-opened businesses and require a lower revenue loss of as little as 10 per cent.
"It still seems like there's not much uptake," she said. "Even if all those businesses got approved and got the $30,000 available for them, the program still wouldn't have been fully accessed. We'd still have one-third of the money leftover."