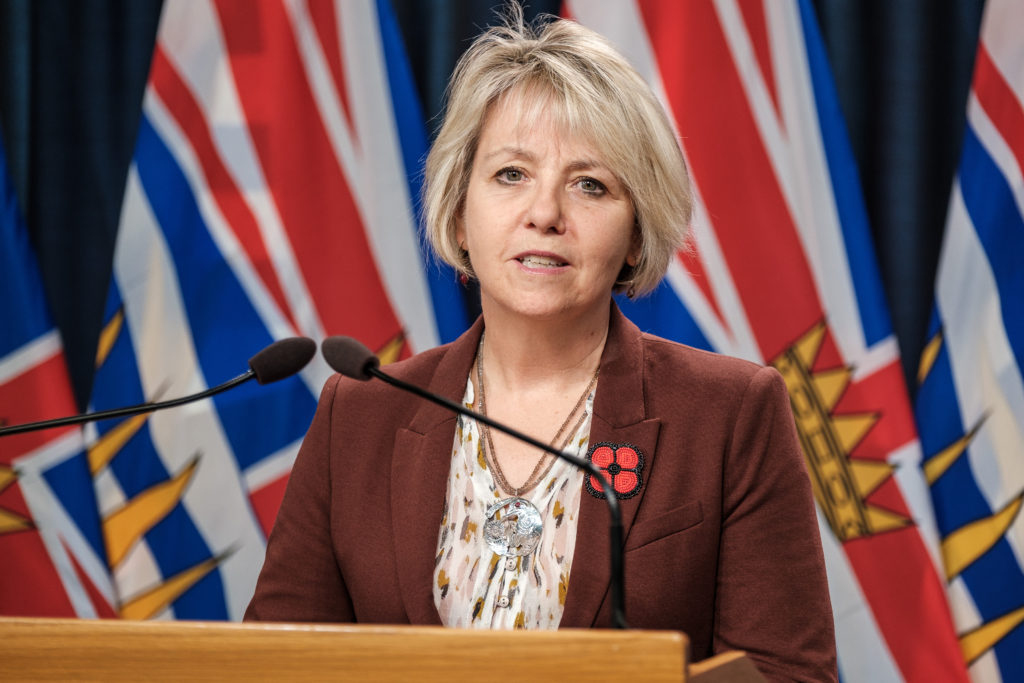 For the second day in a row, British Columbia reported a double-digit number of deaths caused by COVID-19 as health officials reported another 887 new cases in the past 24 hours.
Of the 887 new cases, 18 are linked to the Island Health region. The additional cases mean the Island's health authority has 170 active cases.
The 887 cases is now considered B.C.'s new daily record, after an error in reporting – revealed on Wednesday – led to the adjustment of data.
Due to the data adjustment, the 941 cases – announced on Nov. 24 – shifted to 706. The altering of data meant the province's highest ever single-day case total – prior to Thursday – was 859 new cases on Nov. 21.
As a result, the number of new cases reported in B.C. was not 941 but 706 new cases. The adjusted data means the province's highest ever single-day case total was 859 new cases on Nov. 21. Originally, health officials had reported 713 total cases in B.C. for that day.
The total number of active cases in British Columbia has increased to 7,899 – a rise of 283 from Nov. 25 – while 10,307 residents remain under active public health monitoring.
On Thursday, there were 13 additional deaths related to the virus, meaning the provincial total over the course of the pandemic is now 384.
B.C. has now reported 13 deaths on back-to-back days, announcing the record-setting number on Wednesday as well.
Dr. Bonnie Henry says that there are currently 294 individuals hospitalized from COVID-19 in B.C. – no change from Wednesday – with 64 people in intensive care (increasing by three from Thursday).
As of Thursday, the total number of cases in British Columbia over the course of the pandemic has been 29,973.
Since Wednesday's numbers, there have been 168 new cases of COVID-19 in the Vancouver Coastal Health region, 612 in the Fraser Health region, 18 in the Island Health region, 65 in the Interior Health region, 24 in the Northern Health region and no new cases of people who reside outside of Canada.
Dr. Bonnie Henry and Health Minister Adrian Dix said in a written statement that there have been two new health-care facility outbreaks at Royal Ascot Care Centre and Amica White Rock.
While two new outbreaks were reported on Thursday, three came to an end. The outbreaks at Hamlets at Westsyde, Peace Portal Seniors Village and Village by the Station have been declared over. In total, 51 long-term care or assisted-living facilities and five acute-care facilities have active outbreaks.
There were no additional community outbreaks reported on Thursday.
"Slow and steady is what we need with COVID-19 and it is how we will get through this second wave. The efforts we make each day make a difference," reads a joint statement from Dr. Henry and Health Minister Adrian Dix.
"Let's support our public health teams, which are tirelessly working to track the virus, break the chain of transmission and keep all of us safe. The best way to do that is for each of us to keep to as few faces as possible right now."
In the past 24 hours 13,082 #COVID19 tests were completed.

— Adrian Dix (@adriandix) November 27, 2020
Minister Dix tweeted out that 13,082 COVID-19 tests were completed in British Columbia over the past 24 hours.
The message from health officials continues to be that transmissions and exposures can happen anywhere, so residents should limit the places they visit and social gatherings are to be restricted to immediate household members only.
"Even though we may be staying small right now, that doesn't stop us from staying connected and staying active. You can go outside, try a local restaurant you haven't been to before with your family or connect with friends virtually," reads the joint statement.
Island Health
Island Health has 170 active cases: 46 on southern Vancouver Island, 108 on central Vancouver Island and 16 on northern Vancouver Island.
Southern Vancouver Island includes the Greater Victoria region, Southern Gulf Islands and the Port Renfrew area.
Central Vancouver Island includes the Cowichan Valley, Duncan, Nanaimo, Parksville, Port Alberni and Tofino areas.
Northern Vancouver Island goes from the Comox Valley to Port Hardy but also includes surrounding areas like Alert Bay and Sointula.
Over the course of the pandemic, the Island Health region has reported 544 cases.
More COVID-19 information
If there is a confirmed COVID-19 case in a school, public health contacts affected school community members directly. Regional health authorities also post-school notifications on their websites, providing the date and type of notification (outbreak, cluster or exposure) for impacted schools.
The Island Health school site can be found here.
Island Health's COVID-19 data breaks down North, Central and South Island case counts and lists the number of days since any new lab-diagnosed cases. You can find the data here along with any public exposures.
According to data collected by Johns Hopkins University and Medicine, the number of confirmed COVID-19 cases worldwide is more than 60.8 million. More than 1.4 million deaths have been recorded.
More to come.