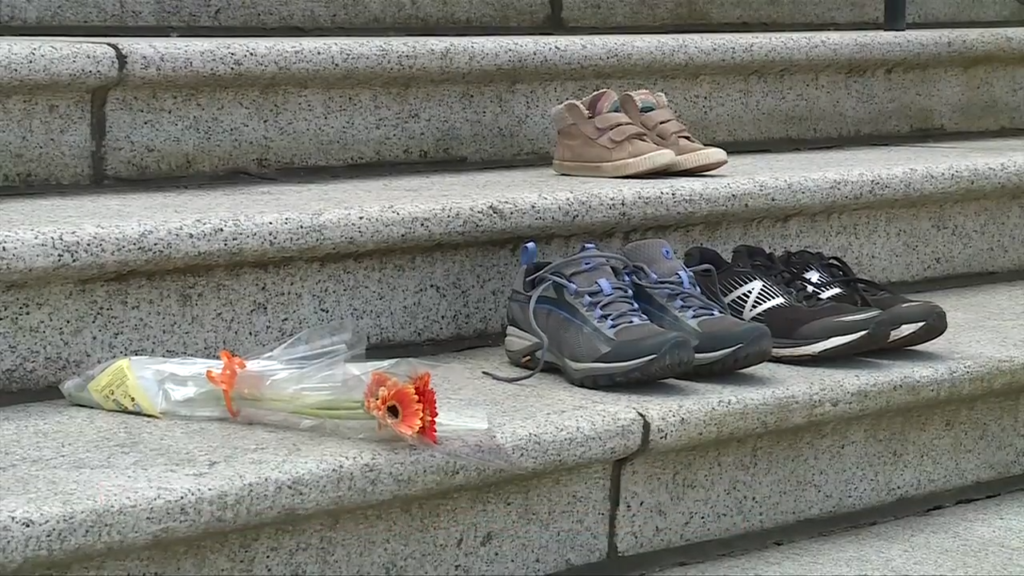 The Legislative Assembly of British Columbia has apologized after shoes placed at a vigil to mourn the discovery of children's remains at a Kamloops residential school were collected by staff members.
The shoes were placed there by members of the public Friday as a way to remember each of the 215 children discovered in a mass, unmarked grave at the Kamloops Residential School that was discovered in May.
"Later that night, following the departure of those individuals, security officers extinguished the candles and collected the mementos, which were then picked up on Saturday by one of the organizers," reads a statement from the assembly.
Please see this statement regarding events that transpired on the legislative grounds this past weekend. ⬇️ pic.twitter.com/sgFYmXB6V0

— BC Legislature (@BCLegislature) June 1, 2021
The removal sparked questions about the legislature's decision to remove vigil items so soon after they were placed.
"Compassion and sensitivity should have been exercised with the memorial items remaining in place. The Legislative Assembly offers its sincere apologies for the hurt this has caused."
The assembly said items have once again been placed on the steps of the building to commemorate the children and they will not be removed during the "period of mourning."
Flags have been lowered to half-mast around the country and vigils have been cropping up as people come to terms with the heartbreaking discovery of the mass unmarked grave, where the remains of children as young as three were found.
READ MORE: Relatives of residential school survivors grapple with Kamloops discovery
"I struggled to find words to express my horror and grief, and realized it's because there are no words," Dr. Bonnie Henry, British Columbia's provincial health officer, said Monday.
"There are no words that can make right a deliberate and intentional system that was — to extinguish Indigenous people."
The discovery has also prompted First Nations around the province to call for immediate searches of other residential schools — five of which are located on Vancouver Island.
Support services are available for anyone impacted by the news.
A National Indian Residential School Crisis Line is available 24 hours a day at 1-866-925-4419.
The B.C. KUU-US Crisis Line Society also has 24-hour services available toll-free at 1-800-588-8717 or online here.
A youth line is also available at 250-723-2040, and an adult line is available at 250-723-4050.