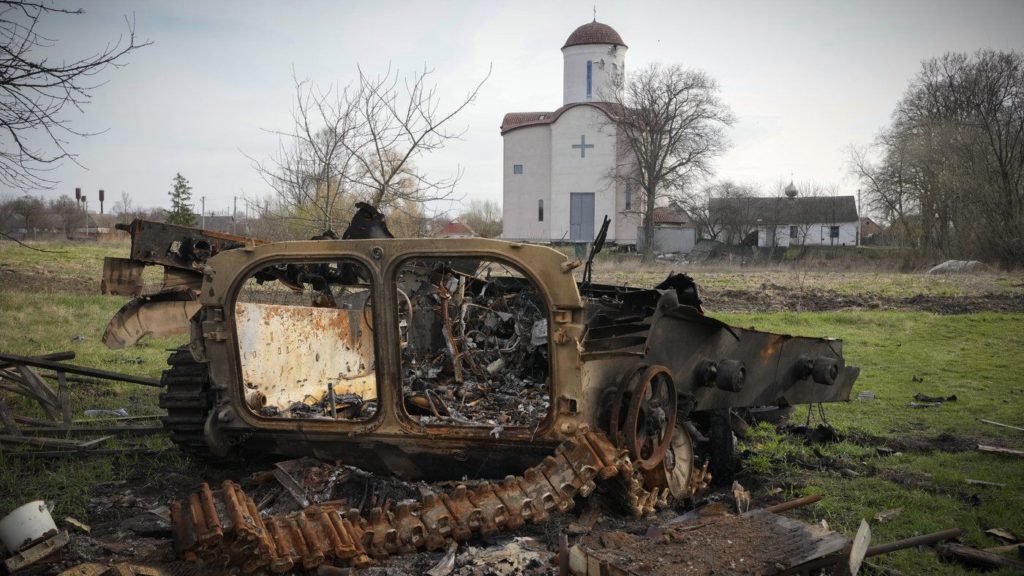 After calls from the United Nations Secretary General for cease fire ahead of Ukraine's most important religious holiday were denied, churches have curtailed the usual celebrations.
As Ukraine operates on the Julian calendar, the country is marking Easter this weekend.
Michael Bociurkiw, global affairs analyst and senior fellow at Atlantic Council, says normally in Ukraine, people would start the holiday by staying at the church overnight on Good Friday.
"Because of the ongoing war, the hours of church services here have been really drastically curtailed. Normally on Good Friday, folks would spend the entire night in church and emerge on Saturday morning," Bociurkiw, who calls Sidney, B.C., home, said in an interview with CHEK News.
"So that is not going to happen. Also, there are curfews in most cities across Ukraine. There's also air raid sirens going off, there's one that just went off a few moments ago, and when that happens, everyone is meant to leave the church and go down into the bomb shelters. But churches have been targeted already in this war, members of the clergy have died or become injured."
Bociurkiw, who is currently in Lviv, says there have been threats that Russians may infiltrate church services.
"On social media, there are threats circulating that the Russians may use infiltrators to target churches these next few days," he said. "So anxieties are pretty high."
Bociurkiw said he did not want to speculate on whether a recent arson at a Ukrainian pastor's home in Victoria was motivated by anti-Ukraine sentiment, but said he hopes the conflict is not spilling outside of Ukraine's borders. If it was, he said it would be the first incident he is aware of that happened outside of the country.
For Easter, Bociurkiw says one of the most beloved traditions is receiving an Easter basket, but he says those likely aren't happening this year due to supplies shortages.
"One of the most coveted traditions is the blessing of the Easter baskets, and in many places, that won't happen this year. Either people can't get access to the food or the baskets or it's simply not safe enough," he said. "So what the church leaders did is they got together here in a rare show of unity, they all agreed on the same thing, that people could follow services online and they could even get blessings on the Easter baskets online. "
According to Kyiv Check-In, a monthly magazine focusing on events and news in Kyiv, part of the Easter basket tradition is to have them blessed by a priest.
"People bring to church Easter baskets with lit candles, which are filled with the Paska, krashanky and other foods," the magazine says. "As part of the mass, the Easter baskets are blessed by the priest, and taken home by the families to eat in the morning."
Bociurkiw says in Ukraine, and especially Western Ukraine where he currently is, people are highly religious, so attending church services has increased during the war.
He says Ukraine has changed drastically since the start of the war, which a recent trip to Kyiv highlighted for him.
"I was just in Kyiv for the first time since the war began, and it's like night and day, it's like a ghost town, it's like a city on an induced coma," he said. "This was, before the war, one of the most beautiful and thriving capitals and all of Europe, and to see it be placed in this position, a lot of checkpoints, a lot of anxiety about after the bombing."
"But the one kind of image I'm still left with is a visit to Chernihiv about a week ago, I have been to the Gaza Strip, I have been to other areas of conflict or emergencies, and I have never seen something like this. It was apocalyptic. You had huge bomb craters in the middle of residential neighborhoods, 500 pound bombs by my estimate, and it was kind of a combination of a hurricane, a wildfire and a war on top of each other. That's how complete the devastation was."
Bociurkiw says many elderly people chose to stay in Ukraine and speaking with him, they say the country needs two things.
"They said, 'we need two things right now we need peace and we need a roof over our heads,'" he said. "So anything the west, the diaspora, ordinary Canadians, British Columbians Vancouver Islanders can do to help support Ukraine is that's where a lot of resources are going to be needed right now for the construction of kind of semi-permanent housing for the displaced people, but also reconstruction of people's houses."
CHEK News has compiled a list of Vancouver Island organizations providing aid for Ukraine, which you can find here.