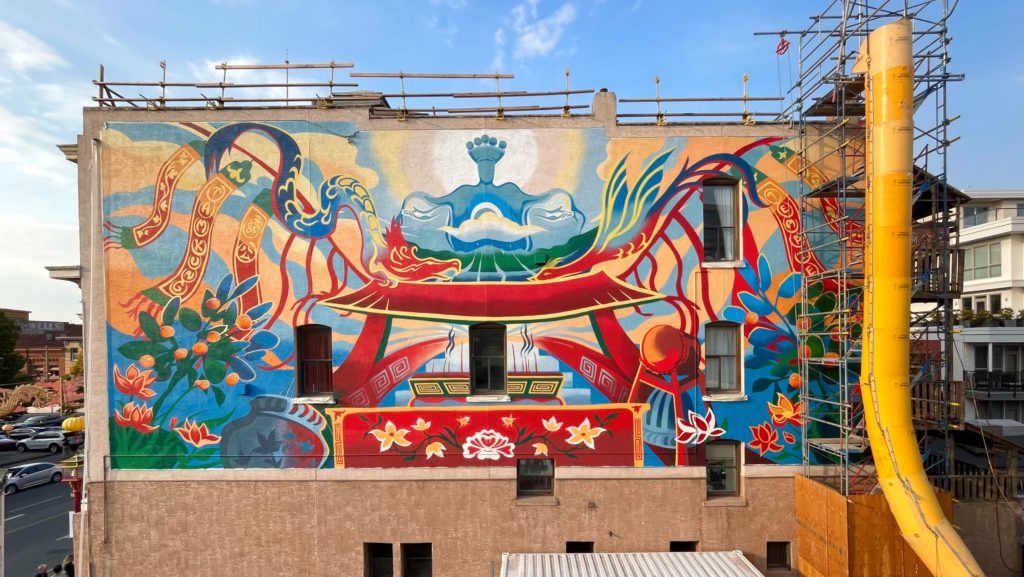 Two B.C.-based artists have put the finishing touches on their new piece in downtown Victoria, where Chinese culture and colours collide to form the giant mural.
"This project was, for me, a dream project just to be able to create a piece of artwork that is culturally significant," said artist Carolyn Wong, a first-generation Chinese Canadian, who crafted the mural on the century-old Tam Kung Temple.
It's found on the south wall of the building at 1713 Government St., in Canada's oldest Chinatown, and took about two weeks to complete, says Wong. With help from artist Braden Stein, they wrapped up in late September.
"It took us 12 days from the start to the end," recalled Wong, noting the commissioned piece measures 2,179 square feet.
"It took a couple days just to prepare the wall because there was a dragon panel that was installed on the building for 15 years or so. We had to carefully remove it, and I think it's being transferred to another site," she said.
"It's being preserved."
Hard work pays off
Wong and Stein had to clean the wall, powerwash it and patch holes. Then they had to prime it, and, of course, paint it, with the latter taking about eight days.
"It was fantastic. It was really great," Stein told CHEK News. "Carolyn was a treat to work with. Obviously, a big project for both of our portfolios, and great to be a part of the historical aspect too, for sure."
Weather played a factor, however.
"Apparently, before we came, it was raining non-stop. But we were lucky to get 12 days of non-stop sun," said Wong. "I think we were rained out for just two days."
Now, people are marvelling at their work.
"Definitely a lot of positive feedback," said Wong.
"Just given the gravity of it, redoing a cultural piece like that, I think that was pretty big for both of us," exclaimed Stein.
READ ALSO: 'Major step': New 3-storey mural in Duncan explores reconciliation
According to Wong, the mural depicts artifacts inside the temple and predominantly features red, yellow, blue and green hues, with a dragon theme tying it all together.
"Some of the important objects in the mural include the altar and a bunch of pots, some banners as well that have traditional Chinese embroidery patterns on them with some text," she said.
There are also citrus trees, like the ones inside the temple, meant to ward off bad spirits.
Earlier this year, the Yen Wo Society said the temple was in dire need of repairs. It was seeking $600,000 to fix the building that was built in 1912.
Ideas sprout in the spring
The mural process started back in March when Wong saw the city's artist call. She already had an idea in mind before she sent in her proposal, and when she found out she got the job, she just so happened to be in Victoria.
"I was able to go to the temple, visit it and take inspiration," she said.
The City of Victoria says the OUR DWTN revitalization fund, as well as contributions from the Downtown Victoria Business Association and Sunbelt Rentals, funded the mural.
Wong and Stein, both hailing from Vancouver, were thrilled to be on Vancouver Island, even if it was for work and not leisure. In fact, Stein studied at the University of Victoria, so being back in B.C.'s capital was nostalgic.
"I left there in 2013, so the city changed a bit. But it's fantastic, I love being there. It was lovely," he recalled.
"It's really cool to have been able to create this piece for the oldest Chinatown in Canada. It was a big one for me," added Wong.
View this post on Instagram