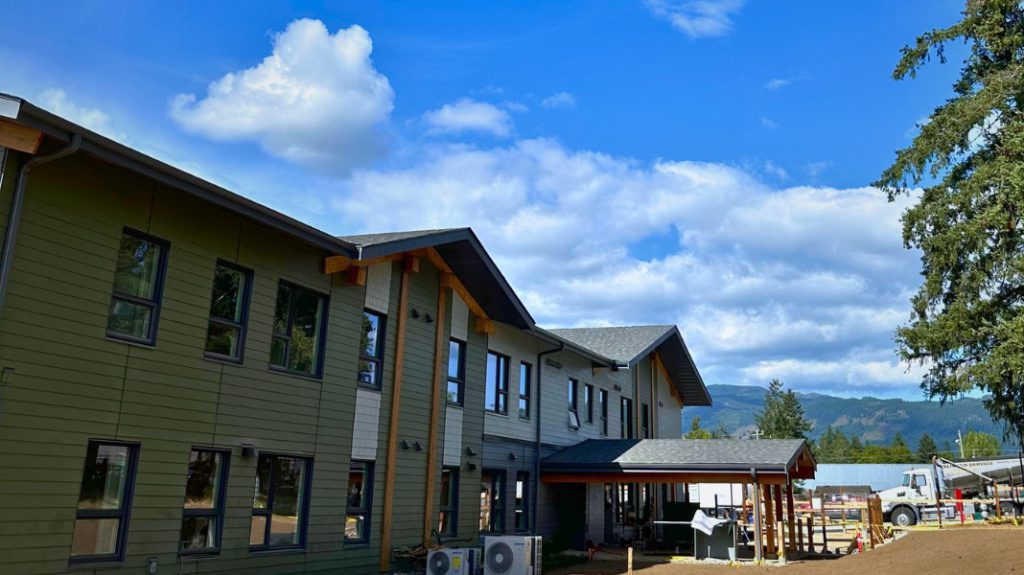 Sage Haven Society/Facebook
A new two-storey facility has now opened in Port Alberni to support women and children fleeing violence.
The building, called wiikšaḥiquʔił, has 22 second-stage homes for people leaving violent situations, including women, transgender women, Two-Spirit people and non-binary people, as well as their children.
Second-stage homes are generally reserved for people who are coming from transitional housing.
People can stay at second-stage homes for six to 18 months as they prepare for independent living, according to the province.
"For women and gender-diverse people leaving violence, having support to rebuild their lives and a safe space is critical," said Kelli Paddon, parliamentary secretary for gender equity.
"These new homes will offer care and compassion to survivors and their children," she said in a statement Friday.
The building includes a mix of studio, one-, two- and three-bedroom units.
Residents will pay either 30 per cent of their income for rent, or the provincial shelter rate if they are receiving income or disability assistance.
Wiikšaḥiquʔił will be operated by the Sage Haven Society, which will offer a range of supports and programs at the building, including safety planning, parenting supports, crisis intervention, financial literacy and tenancy resources.
Once residents are ready to move on, the Sage Haven Society will also help them apply for their own housing and provide rent subsidies.
Applications for Wiikšaḥiquʔił are now open, and the society expects people to move in starting in December.
SEE ALSO: