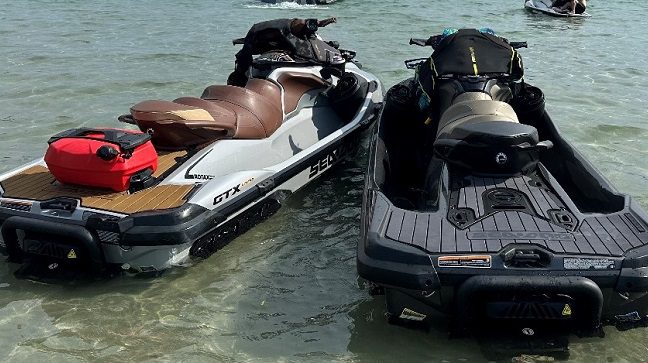 The Oceanside RCMP are on the lookout for two Sea-Doos and a trailer that were stolen out of Qualicum Bay on Thursday.
Police say a black 2022 Sea-Doo GTX Limited 300 and a silver 2019 Sea-Doo GTX Limited 300 were swiped from a parking lot in the 5900-block of Island Highway West.
Mounties believe that the thief or thieves may have used a light-coloured 2008 to 2010 Ford F250 pickup truck to tow the trailer and Sea-Doos from the parking lot.
The Sea-Doos and trailer are worth a combined $60,000, according to the Oceanside RCMP.
The trailer carrying the Sea-Doos is described as a black 2011 Karavan trailer with B.C. licence plate WPF 29T.
Anyone with information on the theft, or who spots the Sea-Doos or trailer, is asked to call the Oceanside RCMP at 250-947-6537, or their local police.
SEE ALSO: Minor injuries reported in Sea-Doo fire at Tulista Park Boat Launch in Sidney