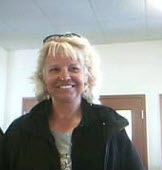 Police are asking for your help locating 52-year-old Sylvie Tremblay of Victoria.
Officers are concerned for Tremblay's well-being and are actively searching for her.
Tremblay is 5′ 7″ tall with a medium build.
She has shoulder length blonde hair and speaks with a strong French accent.
Tremblay was last seen wearing a red sweater or jacket, black pants, white shoes and carrying a purple and black backpack.
She was last seen in the 2300-block of Dowler Place on April 26th.