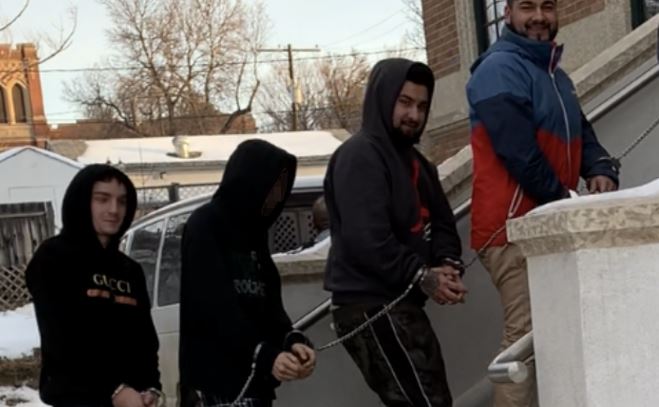 Two people from Vancouver Island facing human trafficking-related offences in Saskatchewan have been granted bail while the other two people they were charged with have been denied.
On Wednesday morning, Victoria resident Shermineh Sheri Ziaee, 36, had a court appearance at Swift Current Provincial Court in Swift Current, Sask. and was given terms of bail.
Later Wednesday, the other three people she was charged with also appeared in court in Swift Current. Victoria resident Shawn Alexander Kelly, 24, was also granted bail, while Seyed Kourosh Miralinghi, 19, and Seyed Kamran Miralinaghi 19, were not granted bail.
Ziaee and Kelly were given the terms on joint submissions, while the Miralinghis, who are twins from Nanaimo, were denied bail after show cause hearings. They will remain in custody in Saskatchewan.
Ziaee was given the following bail conditions, after a joint submission between the Crown and defence:
$1,000 deposit;
report to a probation officer within two days of release;
follow a curfew;
possess no weapons other than for culinary purposes or work;
no contact with a list of people including those she was arrested with or a complainant;
stay within 100 kilometres of her residence;
no contact with people under the age of 18 unless under special circumstances;
agree to have her cell phone searched;
not possess more than one electronic communications device;
Judge Karl Basin was presiding over the case and agreed to extend the original distance that she must stay away from a complainant from the original 100 metres up to one kilometre.
While no money was surrendered as part of Kelly's bail agreement, his other terms of release include;
abstaining from drugs or alcohol;
no contact with anyone under the age of 18 under unless under approved circumstances;
no contact with complainants, or coaccused;
staying away from areas where children may be;
stay within 150 kilometres of his residence;
follow a curfew;
and contact a probation officer following release
The other two men will remain in custody. Bail (show cause) hearing details, witnesses, and complainants have all had publication bans placed on them.
The four were arrested on Jan. 28 for human-trafficking related offences after an off-duty RCMP officer saw three vehicles speeding east on Highway 1 toward Swift Current. Police said the three vehicles appeared to be travelling together as they were driving in close proximity, were going in the same direction and travelling at the same speed.
The drivers were intercepted by Swift Current RCMP officers and all three vehicles were pulled over for driving at 153 km/h as a group.
Police said during the traffic stop, officers discovered several violations of the Saskatchewan Traffic Safety Act. Then while speaking to the drivers and the passengers in the vehicles, officers became suspicious of the relationships between them. Police said two young female passengers were found in separate vehicles, each with tinted windows. They were sitting in the back seat with no identification. The passengers are from B.C. and are not related to the suspects, police said. Their names are not being released.
The charges Ziaee, Kelly, Seyed Kourosh and Seyed Kamran are facing in Saskatchewan include receiving financial benefit knowing it was obtained from the commission of an offence, transport of a person under the age of 18 for the purpose of exploiting them, procuring a person to offer or provide sexual services, harbouring a person who offers or provides sexual services for consideration, or exercised control or movement of that person, and knowlying advertise an offer to provide sexual services. Ziaee is also facing one charge of possession of a weapon for a dangerous purpose.
Seyed Kourosh Miralinaghi, 19, is also facing three charges in Nanaimo with the offence date of Feb. 24, 2019: procuring under 18 years, advertise sexual services for consideration, and benefit from sexual services person under 18.
In addition to those charges, he is facing another charge in Nanaimo: procuring under 18 years of age with the offence date of Jan. 1, 2019.
Seyed Kourosh was scheduled to appear for those charges at a Nanaimo courthouse on Feb. 11, 2020.
All of those involved with the human-trafficking case will have their matters addressed once again in Swift Current on March 11.
Details about the court appearances courtesy of Anthony Janzen, Swift Current Online