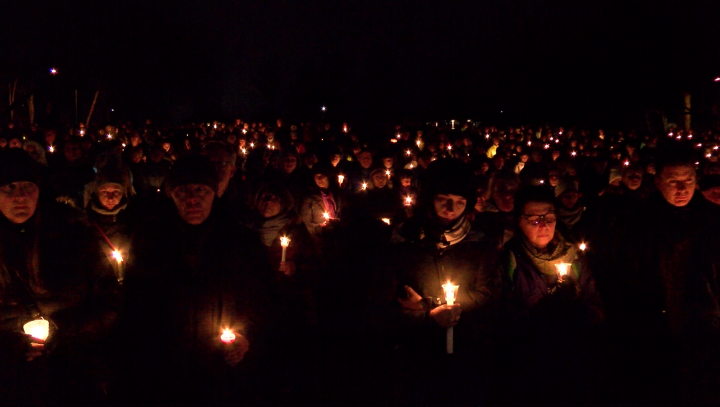 Thousands of candles illuminated the faces of mourners in Oak Bay Saturday night, who gathered to honor six-year-old Chloe and four-year-old Aubrey Berry.
The mayor of Oak Bay, the school principals of the girls and a reverend spoke to the crowd, remembering the girls for their smiles and joy.
First responders from Oak Bay and across Greater Victoria were also in attendance.
Ricky de Souza, the principal of St. Christopher's Montessori School, said the loss will leave a hole in his school and that the girls made a huge impact in their short lives.
"Aubrey will always be remembered as a very kind and warm and gentle soul and spirit," he said. "She would always be able to sense if someone was sad or lonely, and she would just kind of, in her soft way, just go and sit beside them."
Stuart Hall, Christ Church Cathedral School principal, said Chloe only started going to the school this September but made a huge impact on everyone.
"There were many occasions when a class-mate would be bumped or bruised out on the playground, and Chloe would seem to swoop in from out on nowhere and wrap her arms around that friend…[then] staying with that friend till all was right again," he said. "She played hard with both boys and girl…but if things went off track, as they sometimes do on the school playground, she was one of the first to step in as a peacemaker."
Acting mayor of Oak Bay Hazel Braithwaite described the shock the community felt, and made sure to bring attention to the support services put in place after the tragedy. She said that over 2000 people were in attendance.
The girls were found dead on Christmas Day in Oak Bay, their father, Andrew Berry, was found on scene with self-inflicted injuries and was taken to hospital.
There is no word yet on his condition.
The mother, Sarah Cotton, was separated from the father and contacted police Christmas day after the girls were not returned to her as scheduled by their father.
The Vancouver Island Integrated Major Crime Unit says they are investigating the homicide and are not looking for any suspects.
It was an absolutely beautiful vigil. Thank you #oakbay

— Oak Bay Police (@OakBayPolice) December 31, 2017