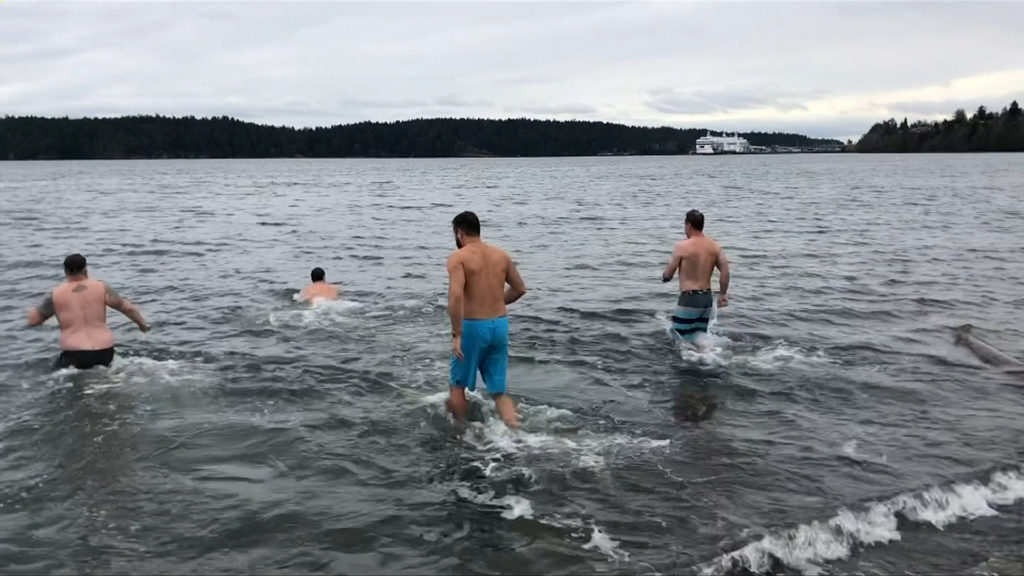 It's the ultimate New Year's refresh.
Polar bear swims are happening across Vancouver Island, including in Greater Victoria, Parksville, Comox and Black Creek, this Sunday, Jan. 1, when swimmers will plunge into frigid waters to ring in 2023.
In Oak Bay, swim group Cold Water Addicts is inviting people dressed in festive attire to attend its 90th Sunday Aventure starting at noon at Willows Beach, next to Willows Park.
While the group, which includes swimmers and stand-up paddle boarders, takes to the water in rain, sleet, hail and snow, the upcoming event is weather permitting if gale force winds, between 34 to 47 knots, are forecast.
Meanwhile, the Peninsula Celebrations Society is hosting a swim at noon at Sidney's Glass Beach, where organizers ask participants to enter via the beach access area at the end of Beacon Avenue.
In Sooke, the Otter Point Volunteer Fire Department is sponsoring a swim at Whiffin Spit Park and registration opens at 11:30 a.m. with a cannon kickoff at noon, according to organizers.
At Parksville Beach, the Regional District of Nanaimo is hosting a swim with on-site registration at 11:30 a.m. before participants make a splash at noon. 
"Come down and join in the fun, either as a spectator or a participant who takes the splash," the district said on its website.
Up island, the Town of Comox recreation department is also inviting people to Goose Spit for a dip into Comox Bay, where registration starts at 10:30 a.m. and the plunge is set for 11 a.m.
"As the holiday season approaches, there is an air of excitement to bring in the New Year," said Nicole Minions, Comox mayor, in a news release.
"There is a sense of refresh and renewal that goes along with jumping into the cold Salish Sea together. The dip at the Goose Spit is an invigorating way to start 2023. You are all welcome to join us on the first day of the year, new participants and returnees alike."
Recreation staff will be handing out free hot chocolate, and Comox Fire Rescue and a lifeguard will be on scene if assistance is needed, according to the town in the release.
Farther north, the Black Creek Community Association is also hosting a swim at Saratoga Beach, where registration starts at 10 a.m., the event kicks off at noon, and prizes will be handed out to the youngest and oldest participants as well as for best costume.
In both Black Creek and Comox, clouds with a high of 6 degrees Celsius are forecast for Sunday, as Victoria could see some sun sitting at a high of 7 degrees, according to The Weather Network.
While jumping into brisk waters may be a fun and refreshing way for some to welcome a new year, for others, it's much more.
Just ask Sylas Thompson, who, on Feb. 1, 2019, started a daily polar bear swim at the Tyee Spit in Campbell River in hopes of raising funds for two local organizations, including $15,000 for Grassroots Kind Hearts and $15,000 for the Women's Resource Centre.
Sylar, who was just 11 years old at the time, successfully completed the fundraiser about a month later thanks to an outpouring of donations from other individuals, businesses and community groups.
READ ALSO: Campbell River boy reaches $30,000 fundraising goal after plunging into icy waters daily
Do you know of another polar bear swim happening on Vancouver Island this Sunday, Jan. 1, 2023? Send all the info to [email protected].