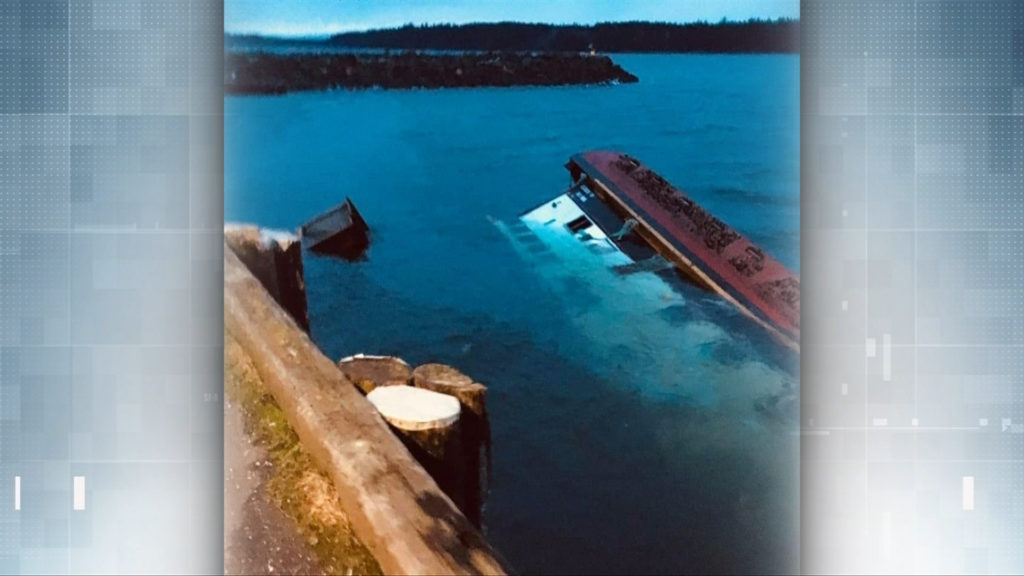 A sunken barge that had been refloated to the water's surface in Port McNeill has sunk again, resulting in the further release of diesel into the Pacific Ocean.
The barge had initially sank back on Dec. 24 in the harbour in Port McNeill.
The vessel, an 80-foot, two-storey Alaska Plaza, sunk at the dock with an estimated 3,000 litres of diesel fuel on board, according to the Coast Guard.
A boom was laid around the barge and successfully contained the spill at the time of the initial sinking, according to the Coast Guard's communications officer Dan Bate. Diesel was upswelling from the barge but "no fuel has been observed outside of the containment boom."
An effort to salvage the boat was initiated in the first week of January, however, operations were suspended on multiple occasions due to inclement weather.
Late in the evening on January 8, the barge was finally raised to the surface.
The Province of BC says that during the refloating process, more diesel from the barge was released.
"While the [diesel] release was initially contained inside the boomed area, the barge subsequently lost stability and capsized again. This damaged the containment boom in place and allowed diesel to escape," reads a statement from the B.C. government.
"A further 60 metres (200 feet) of boom was deployed to contain the spill, however high winds and waves have made it difficult to estimate the amount of diesel that may have escaped the boom area."
By January 10, additional operational resources had been deployed to the site and representatives from the 'Namgis First Nation, the Canadian Coast Guard, the B.C. Ministry of Environment and Climate Change Strategy, and Croman Corporation (the Responsible Person) continue to meet in regards to the sunken barge.
As of Monday, the barge remains sunk by the ferry dock, however, the government says that no further major pollution releases are anticipated at this time.
"Further attempts to recover the barge have been temporarily suspended until weather permits and recovery equipment becomes available," adds the government.
According to the government, the incident has shifted from the emergency phase to the recovery phase and plans to collect remaining debris, sample the affected area and conduct shoreline assessments are being revised and developed.
A Notice to Mariners will be issued to caution vessel traffic of the incident as well.
A second vessel sank at the same time as the barge, however, it was patched and removed from the area on December 29.