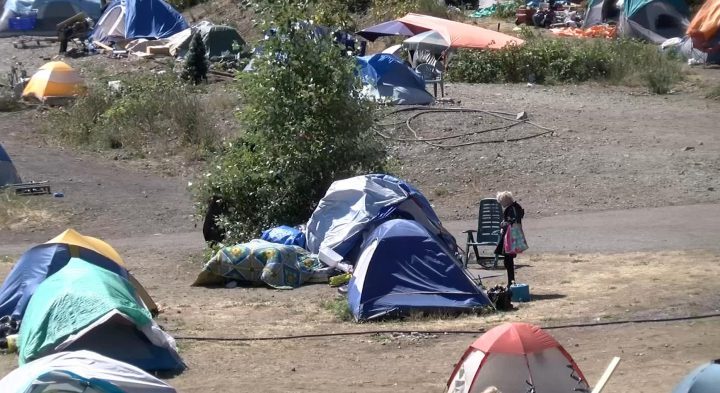 A rally is being held Thursday afternoon in Nanaimo to protest a fire department order that requires downtown tent city occupants to remove all tarpaulins from the camp.
Members of the encampment say the order is not aimed at fire safety but instead is a form of bullying – and they say it shows the Nanaimo fire department has become politicized by what they call the "anti-homeless" climate in the city.
Occupants of the growing encampment were given one week to comply when the order was announced last week – and when they didn't, campers say a fire inspector told them an enforcement order would be requested.
The City of Nanaimo said an inspection by Nanaimo Fire Rescue was conducted on July 25 to ensure compliance of an interim fire order.
"The interim order requires the occupants at tent city to comply with a number of fire and life safety requirements placed by the provincial fire commissioner. Fire inspectors found the majority of occupants have not only failed to comply, but many are deliberately contravening the order," the city said in a release.
Nanaimo Mayor Bill McKay said if a fire occurred at the tent city, it could be "catastrophic."
"There is a vulnerable population of people at 1 Port Drive and the City's priority is the safety of the occupants and that of the general public," McKay said in a statement.
Troy De Souza of Dominion GovLaw LLP, legal counsel for the City of Nanaimo said deliberate disobedience of a court order is not an option and they are proceeding with all legal options against the occupants, including contempt, police enforcement and increased costs.
Thursday's protest, which will be held at 1 p.m. at the Discontent City main gate, comes as a B.C. Supreme Court judge mulls Nanaimo's request for an injunction to dismantle the camp.
With files from The Canadian Press