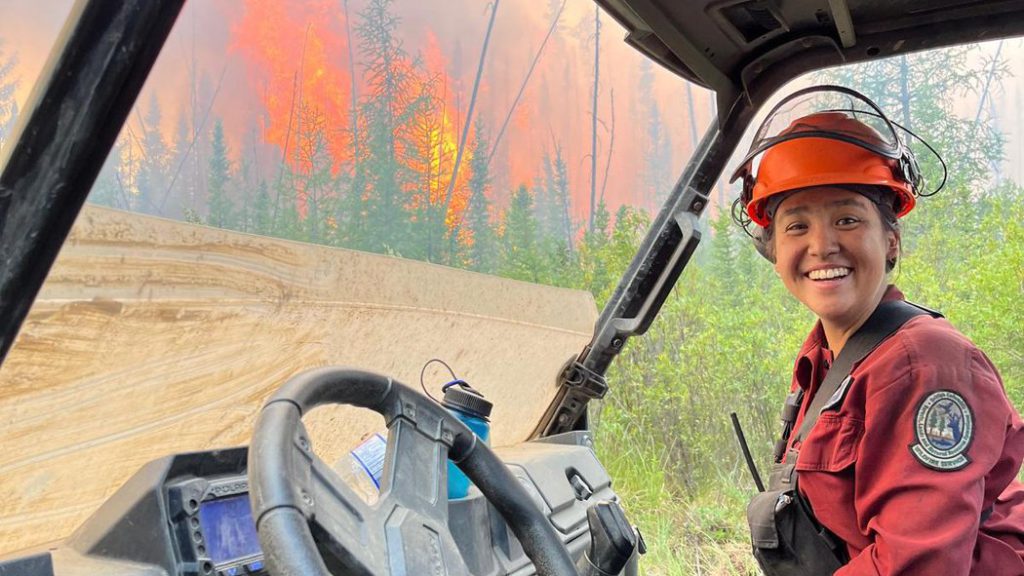 THE CANADIAN PRESS/HO-BC Wildfire Service
Family, friends and fellow firefighters paid tribute to a 19-year-old woman killed while battling wildfires in British Columbia earlier this month, describing her as hard-working, reliable and positive.
Devyn Gale died on July 13 after being struck by a falling tree while fighting a wildfire near Revelstoke, B.C.
Gale's brother and sister, Nolan and Kayln, who are also firefighters, gave emotional speeches about their sister at a public memorial in Revelstoke on Saturday.
Nolan Gale said Devyn was an "amazing sister."
"She was kind, caring and loving. She was always willing to show up for Kayln and I in whatever way we needed."
With a shaking voice, Kayln described Devyn as her best friend.
"Her heart was open and her mind was always searching for ways to enrich her's and other's lives," she said.
Casey Robinson of the BC Wildfire Service, who initially interviewed and trained Gale, said he was impressed by her "smarts, her energy and her ability to work hard."
"When I met Devyn, she struck me as being thoughtfully reserved with a drive and a desire to learn," he said. "She joined the crew and fit right in. She grew to a person that everyone wanted to work with."
He said Gale was an excellent firefighter and encouraged all those in the same field to continue her legacy of "being welcoming, conscientious and open hearted to anyone who joins" their crews.
A third year BCWS crew member, Gale was also working toward a bachelor of science in nursing at the University of British Columbia in Kelowna.
Revelstoke Mayor Gary Sulz, who also acted as the funeral director, told attendees that Gale competed in swimming and skiing while growing up, and that her "main passion" was trampoline gymnastics.
"Devyn brought a lot of joy to her family, and her grit, integrity and passion to grow made it easy to find pride in her," he said.
"Devyn also had a mischievous and goofy side full of pranks, wacky handshakes and bad singing that not everyone had the privilege to see," he added.
The service followed a memorial procession that included Gale's BC Wildfire Service colleagues, a colour party, honour guard and representatives from various first-responder agencies. Community members lined city streets in Revelstoke to watch the march.
Gale is one of three Canadian firefighters who have died battling the hundreds of blazes that are burning across the country.
Adam Yeadon, 25, died last Saturday while fighting a wildfire near his home in Fort Liard, N.W.T.
Ryan Gould, a 41-year-old helicopter pilot from Whitecourt, Alta., died after his aircraft crashed Wednesday during firefighting operations in that province's northwest.
This report by The Canadian Press was first published July 22, 2023.