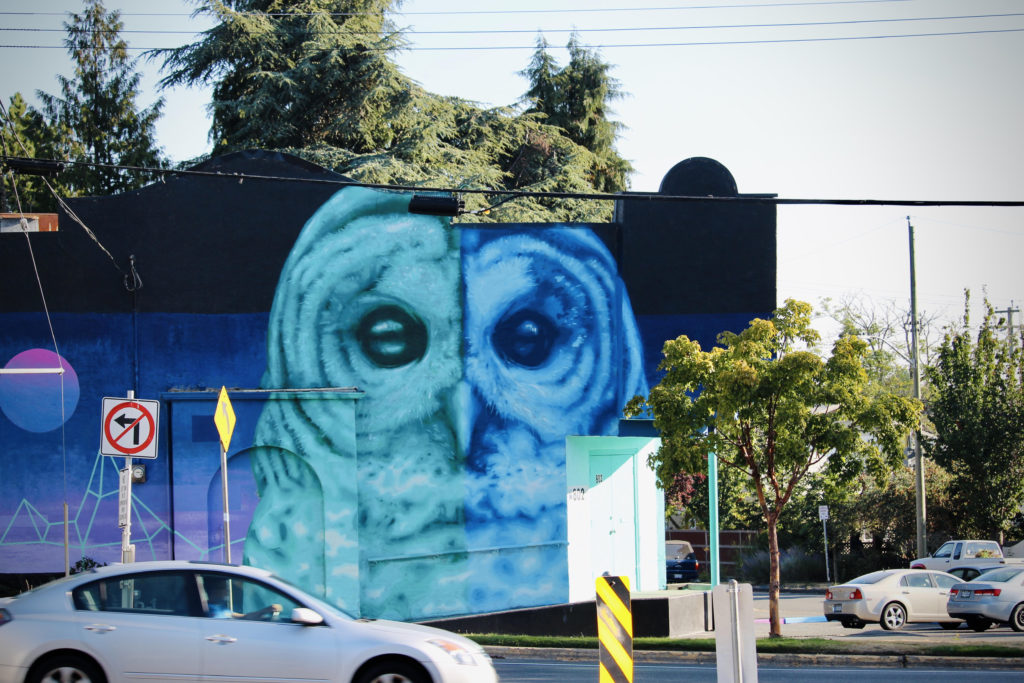 Photo: Ethan Morneau/CHEK News
Paintbrush in hand, a B.C.-based visual artist put his skills to the test by transforming a building in Esquimalt into a nighttime spectacle — and he had a hoot of a time doing it.
Sweden native Lukas Lundberg recently wrapped up work on his massive new mural of an owl found on the outside walls of The Union House on Esquimalt Road.
The over two-week feat was all part of the annual East West Mural Fest, which brought together Lundberg and four other artists to paint displays to add to the five existing ones locals love.
While Lundberg has about 10 years of experience doing commissioned pieces and has been painting since he was a teenager, he's never quite done a project this big before. 
The mural, which wraps around the building, "is really two big murals," he told CHEK News. "And just one of them is the biggest I've ever done. So two of them is massive."
Picking a pallet of majestic blues, purples and greens to add some contrast to the building's existing walls, Lundberg envisioned his design "like a night-owl theme in vibrant colours."
"When I was selected to paint for them, they checked out my previous work, and I do a lot of wildlife and portraits," he said. "They suggested specific animals from the Island and what's important to Esquimalt — apparently, there's an owl park [in the area]."
Lundberg explained the mural festival process, saying he was selected following a call out to artists. Lydia Beauregard, Expel, Kay Gallivan and Alex Taylor-McCallum also painted their own murals this year, which can be found via an online map.
Lundberg sums it up as "a good process."
"It's very connected to the people [at The Union House]. They're really on board with what's happening a really helpful."
While some artists might use a "grid" technique or stencil with a projector, Lundberg instead creates a random system of shapes and squiggles that he overlays on top of a digital rendering of the piece.
"So I do a bunch of patterns on the wall, then I take a picture of that and put my design on top of that in a program. Then I can see roughly where I can put the brush," he said.
"It's good for when you do portraits because you don't want anything to go wrong with proportions, especially when you do a mural. You don't have time for mistakes."
On Saturday, Sept. 3, festival organizer Esquimalt Community Arts Hub (ECAH) hosted The Great Mural Race, a family-friendly 5-kilometre circuit to show off the new creations and conclude the event.
According to ECAH, the Province of B.C., Township of Esquimalt, B.C. Arts Council, Capital Regional District (CRD) Arts Commission and the City of Victoria provided funding to help with festival costs.
Lundburg expects his mural to stay put for quite some time, or "until they tear down the building," adding: "I think that will happen at some point, it's quite old. But it's going to be up for a while, I think."
Though his work is often seen on the Mainland in places like Vancouver's Gastown or River District, he keeps flocking back to Vancouver Island.
"I'm here quite often," said Lundburg. "I've been painting here before, but I've never had this big of a scale project on the Island. I really like it here, the people are nice and it's a good vibe."