Brace yourself, Langford drivers. A major road closure is coming as the city replaces a crucial water main on Goldstream Avenue, causing delays and detours for the next month.
Starting Monday, the major water main replacement project is set to disrupt the daily commute for Langford residents as Goldstream Avenue, between Veteran's Memorial Parkway and Mall Entrance, shuts down to eastbound thru traffic between 7 a.m. and 5 p.m. for the next several weeks.
The City of Langford has issued a traffic advisory warning drivers to expect delays and plan for longer commuting times.
"Please be advised that from Monday, January 16, 2023, to Friday, February 10, 2023, Goldstream Ave will be closed to thru eastbound traffic between Veteran's Memorial Parkway and the roundabout at the mall entrance/Bryn Maur Road," the City of Langford stated in its traffic advisory.
Langford will be working with local businesses to ensure that they remain accessible to customers during the construction, and advertise on their behalf that business is still open. Emergency vehicles and BC Transit will have full access through the construction site.
The construction will also affect pedestrian access, with traffic control personnel on-site during working hours to facilitate vehicles' and pedestrians' access to local businesses in the affected area. The City of Langford has suggested a detour route and a parking facility on Claude Road that the public can use to walk to local businesses.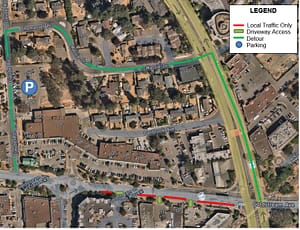 It's just the beginning of work that will be taking place over the next year, as the water main replacement project stretches as far west as Leigh Road.
This and other closures will be necessary for the replacement of two existing CRD water mains, which are constructed from aging asbestos cement piping and not seismically resilient, and pose a risk of failure. The new water main will be constructed from more durable ductile iron piping, according to the city.
The entire project is expected to take one year to complete and it will be done in segments, starting at Veterans Memorial Parkway and moving west.
The City of Langford will issue updated traffic advisories as the project progresses.