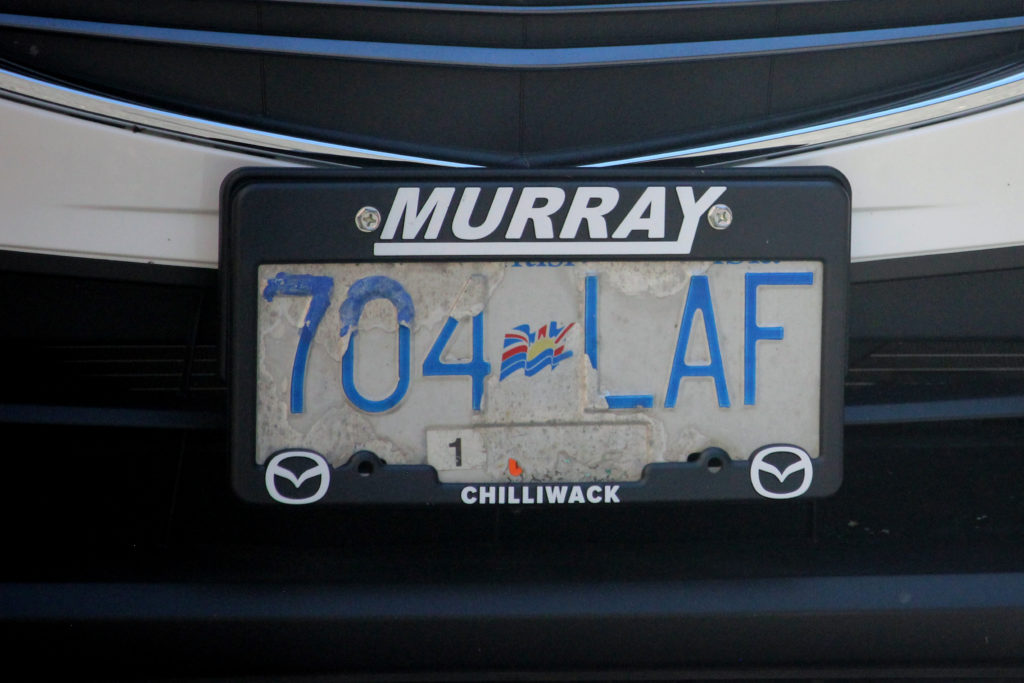 If you have old, cracked, peeling licence plates you can get them replaced at no charge.
B.C. licence plates can wear over time — often due to exposure to weather — and become delaminated or peel over time.
And when that happens, motorists can return their plates and get replacements for free, according to ICBC.
"Customers with a delaminating licence plate should visit their Autoplan broker for a replacement plate free of charge," Lindsay Wilkins, spokesperson for ICBC, said in an e-mailed statement.
Motorists who don't bother replacing their peeling plates or allow them to peel to the point where the numbers or lettering is no longer visible can be fined by law enforcement if they are caught.
Under Section 3.03 of the Motor Vehicle Act, drivers can be fined up to $230 for driving with defective plates.
"A number plate must be kept entirely unobstructed and free from dirt or foreign material, so that the numbers and letters on it may be plainly seen and read at all times and so that the numbers and letters may be accurately photographed using a speed monitoring device or traffic light safety device prescribed under section 83.1 of the Act."
RELATED: B.C. making changes to its licence plate after insurance decals dropped
Recently, West Shore RCMP said that they are increasing enforcement of those who improperly display their plates partly due to the province's decision to eliminate insurance validation decals earlier this year.
The province's move was largely made because of law enforcement's ability to use Automatic Licence Plate Recognition system, which can read licence plates and provide vehicle and driver information to an officer in real-time. But, in order for the recognition system to work properly, front and rear licence plates need to be properly displayed and clearly visible, stressing that they will be "cracking down" on those who fail to display both plates, according to the RCMP.
B.C. is by no means the only province to have peeling licence plates.
In 2012, Ontario was forced to order more than 100,000 plates from Nova Scotia-based Waldale Manufacturing, according to the CBC.
Other provinces including Manitoba, Nova Scotia, New Brunswick, Newfoundland and Labrador, have either had to recall thousands of plates in the past due to similar issues.
In the United States, some places such as Michigan require motorists to replace their plates after a certain period of time, usually seven to 10 years.
RELATED: RCMP 'cracking down' on B.C. motorists who don't display their front licence plate