A Transportation Safety Board of Canada investigation into a July 2021 float plane crash near Tofino has found the wake from a boat contributed to the crash.
Just before noon on July 26, 2021, the Atleo River Air Service plane with four passengers and a pilot aboard flipped onto its roof after taking off from the Tofino Marina. One passenger was seriously injured, the other three and the pilot had minor injuries. There were no deaths in the crash.
The TSB report found that while accelerating to take off, the wake from a boat slowed the plane. The pilot then turned to continue gaining speed with more distance.
After picking up some more speed, the float plane lifted off, though the investigation was unable to determine if a second boat wake caused the take off, or if it was control input.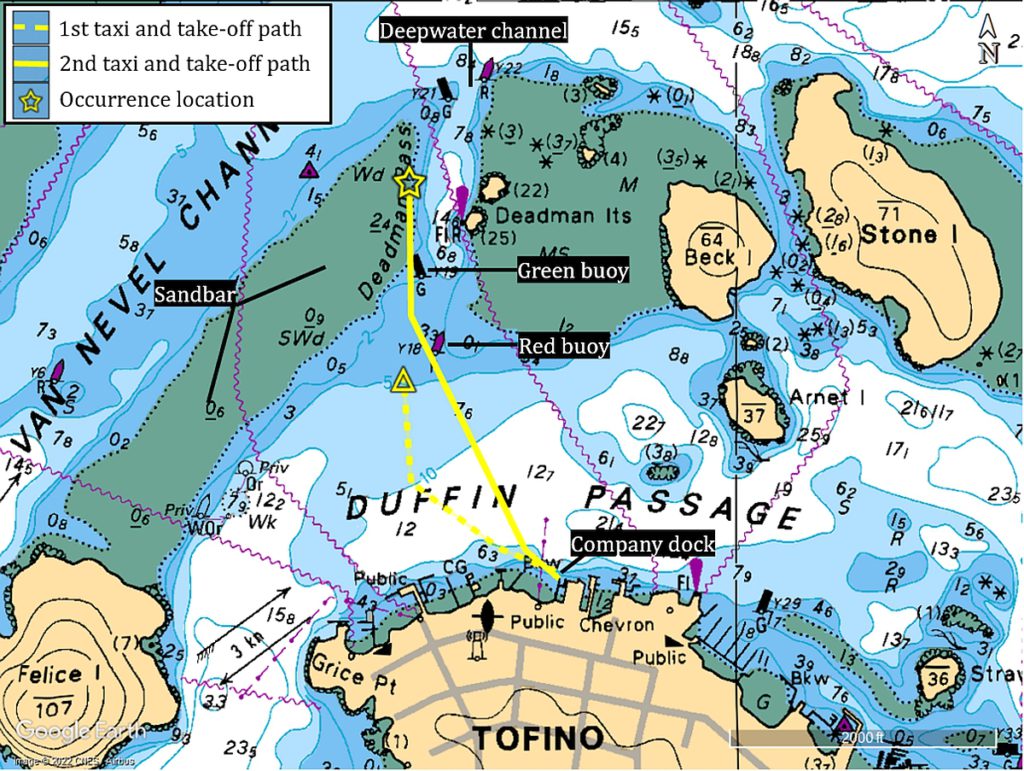 The flight when the plane crashed was its second flight of the day. The first flight took off along the path marked with a dotted yellow line. The second flight took off on the path with the solid yellow line. (Source: Google Earth and Canadian Hydrographic Service Chart 3685, with TSB annotations)
When the plane took off, the report notes it was at a low airspeed and in a right turn. The left-wing then stalled aerodynamically at too low of an altitude for the pilot to regain control, and the right-wing hit the water.
The plane landed on a sand bar, which the investigation notes likely resulted in the passengers surviving, by reducing the risk of drowning and providing the passengers time to exit the aircraft.
The report says in float plane accidents the risk of drowning is high as people can get stuck in sinking aircraft. Following a 2009 float plane crash where six people drowned, the TSB ordered all float planes to be fitted with regular and emergency exits that will allow people to exit in the event of a survivable crash.
Following the crash, Atleo River Air Service made changes to its scheduling by increasing time between flights by 15 minutes to allow for more time to do pre-flight checks.