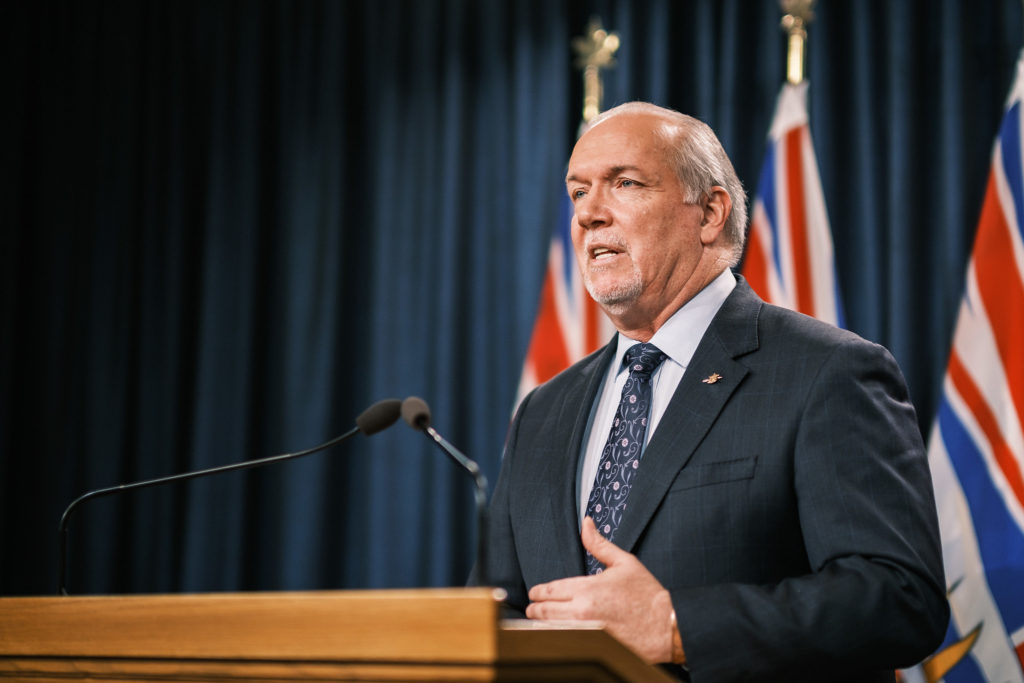 Premier John Horgan called the behaviour of a British Columbia couple who travelled to the Yukon last week to receive COVID-19 vaccines ahead of Indigenous elders "un-Canadian."
"I believe there is nothing more un-Canadian than going to another jurisdiction to jump the line because you have the means to do so," Horgan said during a press conference Wednesday.
Former Great Canadian Gaming Corp. CEO Rodney Baker, 55, and his actress wife, Ekaterina Baker, 32, are accused of violating Yukon COVID-19 rules after they allegedly chartered a plane and flew to Beaver Creek, where they claimed to be motel employees in order to get shots of the Moderna vaccine.
The couple has since been charged with one count of failing to self-isolate for 14 days and one count of failing to act in a manner consistent with their declarations upon arriving in Yukon, according to the Canadian Press. If convicted, they could serve up to six months in jail.
Horgan took some time during Wednesday's press conference to voice his displeasure with those who continue to violate public health orders while the majority follow the rules, explaining that many people are beyond frustrated.
"We talk about COVID-19 fatigue, its COVID-19 exhaustion. Let's been honest about this," he said. "People are frustrated, they are angry and when they see other people disregard the very rules they are trying to abide by, it is offensive to them and its offensive to me."
The Premier also called the Baker's behaviour the last thing the "majority" of British Columbians, including himself, expect.
"We hear about the entitled and the elite charting a private jet to bump someone out of the queue; that is about as un-Canadian as you can get and that was profoundly disappointing for me on a number of levels," said Horgan. "You can't measure the level of contempt, I think,  British Columbians have for that individual."
Asked whether he would consider increasing the fines, Horgan said the province is taking steps to ensure the "full force of the law" comes down on those who continue to disregard the rules and find loopholes. He also said some people have so much money, that increasing the fine would make no difference to them financially.
"There are also those that are also well off and believe the fines — although substantial for regular people — are just not even rounding errors for millionaires who can charter jets to bump indigenous elders off the list," he said. "I just don't know how we can compare people who think that is OK with regular people because that is just not how most of us roll."
Earlier in the week, Dr. Bonnie Henry told British Columbians they needed "to do more" as daily COVID-19 case numbers hoover around 500 per day, sparking off a wave of questions from residents wondering what more they could possibly do.
Horgan said Henry's comments were directed at belligerent British Columbians and those attempting to find loopholes and disregarding the rules.
"The notion that someone with a penthouse condo in Vancouver declaring it a nightclub and not allowing the law enforcement to ensure that they are living up to public health regulations, that is the type behaviour that Dr. Henry was talking about on Monday," said Horgan, referring to a Vancouver man who was issued a ticket for turning his condo into a makeshift nightclub.
"We need people who are not paying attention to give themselves a bit of a shake and get with the rest of us. The vast majority of British Columbians, who are making extraordinary sacrifices every day."