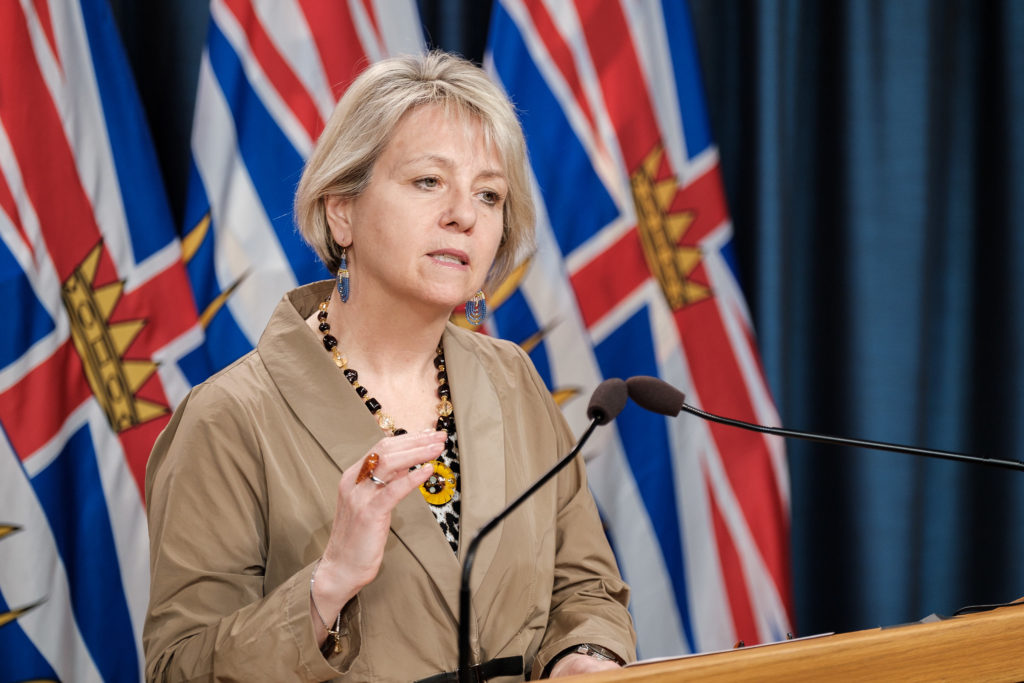 British Columbia health officials reported 2,211  new cases – including 64 in Island Health – and 45 deaths from COVID-19 since their last update on Dec. 31.
The number of confirmed cases in B.C. climbs to 55,201 while the province's death toll now stands at 945.
Of the new cases reported, 389 were recorded in Vancouver Coastal Health, 1,301 were in Fraser Health, 64 in Island Health, 288 in Interior Health, and 169 in Northern Health.
There are 6,823 currently active cases in the province, 351 people in hospital — 67 of whom are in intensive care — and 8,785 people under active public health monitoring due to possible exposure to an identified case.
Over 45,000 people in B.C. have recovered from COVID-19 and more than 24,100 people have received at least one dose of a COVID-19 vaccine.
During Monday's update, Dr. Bonnie Henry, the provincial health officer, said one of the deaths was in Island Health and the majority of those who died from the virus were elderly people.
"Once again the majority of them are seniors and elders in long-term care," she said. "I know the families, the care providers, and our communities are all mourning their loss."
Henry also acknowledged the sacrifices people have made, including putting their holiday plans on hold. However, she also pointed out that some people continue to "bend the rules" and refuse to get tested for COVID when they should.
"If you are feeling unwell at all. If you went out to that party or that group meeting or that gathering with family members and you're not feeling well, please stay home. Stay away from others," she said.
"It is more critical than ever right now that we are all cautious."
Island Health
Although health officials announced 64 cases on Vancouver Island since Dec. 31, only 53 of those cases are considered new, according to data on Island Health's website.
There are currently 108 active cases – 53 on southern Vancouver Island, 30 on central Vancouver Island and 25 on northern Vancouver Island.
Over the course of the pandemic, the Island Health region has reported 981 confirmed cases of COVID-19.
Of those 347 are in the south Island, 415 are in the central Island, and 219 are in the north Island.
Southern Vancouver Island includes the Greater Victoria region, Southern Gulf Islands and the Port Renfrew area.
Central Vancouver Island includes the Cowichan Valley, Duncan, Nanaimo, Parksville, Port Alberni and Tofino areas.
Northern Vancouver Island goes from the Comox Valley to Port Hardy but also includes surrounding areas like Alert Bay and Sointula.
COVID-19 vaccination plan
As of Jan. 4, British Columbia has received 54,625 doses of the COVID-19 vaccine — 34,125 doses from Pfizer and 20,500 doses from Moderna.
Furthermore, the province is also planning to administer 16,575 additional Pfizer doses this week, including 2,925 in Island Health.
Dr. Bonnie Henry said during her update on Monday, called the rollout and immunization program a "monumental task" and that the goal right now is to protect the most vulnerable or at-risk people.
"We are focused intensely on making sure we protect people in long-term care and assisted living as quickly as we possibly can, and, of course, protect those most at risk in our communities," said B.C.'s top doctor.
British Columbia's goal is to fully vaccinate 150,000 people by February, according to Henry, who presented more information and data around vaccinations in the province during Monday's update.
"We have made that decision based on trying to protect as many people as possible during this highest risk period and making sure that we are still able to give second doses within a reasonable amount of time," B.C.'s top doctor explained.
Between February and March, B.C. intends to administer the first dose of vaccine to 400,000 individuals, including some 70,000 residents and staff at long-term care homes.
Around 30,000 hospital and emergency care workers, as well as 25,000 people living in remote and isolated First Nation communities, are also expected to receive the vaccine during those months.
"We have an important commitment to remote and isolated First Nations communities," explained Henry. "We have seen the devastation that can happen when the virus gets into those communities."
However, Henry said the province doesn't know how many vaccines they will be receiving in February and March but should have a better idea by the end of the week. She also noted that the logistics behind rolling out the vaccine hasn't been easy.
"It has been challenging and as we mentioned when we started this, we are learning there has been bumps and delays," said Henry.
Henry stressed that there has been a lot of work and preparation that has gone into the vaccine rollout in B.C.
"We have done a lot of work preparing for the logistics, whether it is security, handover, temperature controls," she said, adding that when it comes to handling the vaccines, things are done a little differently than they were in the past.
"There are a lot of things that we are not used to having to do when we are handling vaccines, including ultra-low temperature gloves, being able to work with liquid nitrogen, the thermal containers, which are quite heavy," she said.