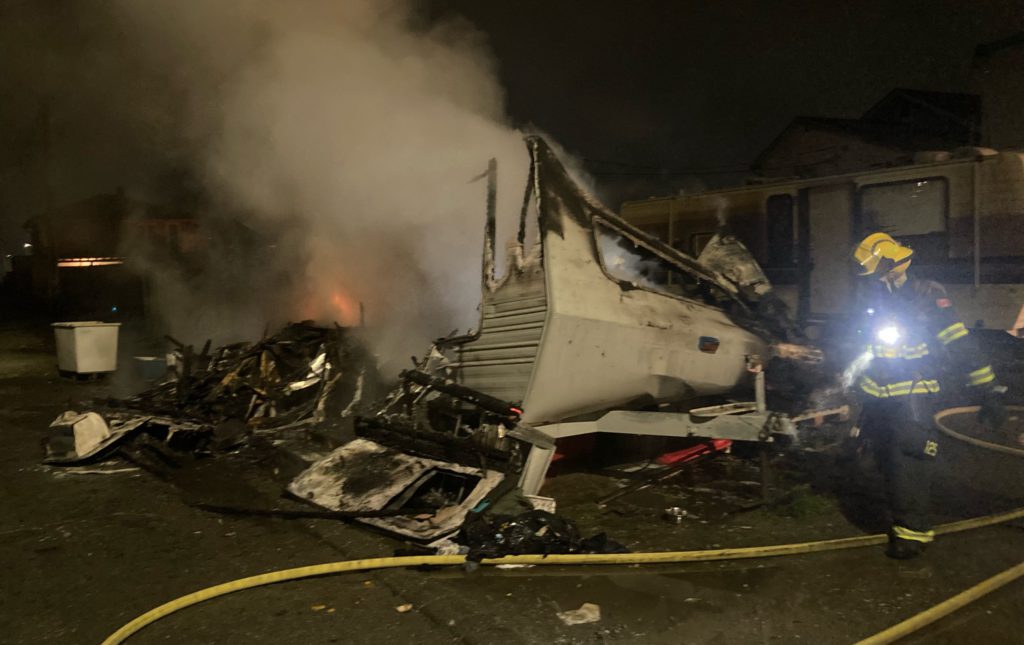 Four people are displaced after a fire engulfed and fully destroyed a trailer in Port Alberni Saturday morning, the local fire department says.
Multiple 911 calls around 3:40 a.m. led firefighters to the 3600-block of Fourth Avenue to find an RV trailer "fully involved" in flames, Port Alberni fire chief Mike Owens tells CHEK News.
"The crews worked hard in suppressing the fire before it had the opportunity to spread to any of the adjacent RVs," said Owens in an interview. "There was one that sustained a little bit of external damaged but was still habitable."
The group now without a home are under the care of Emergency Social Services, according to Owens, who notes that "they were actually uninjured, thankfully." 
But this latest blaze follows a string of other fires at the property, which houses about 10 trailers, yet isn't deemed a legal trailer park and "has been of concern for the city and the fire department for some time now," the fire chief said.
"We have had at least two other fires in trailers down there in the past, in the last 12 to 18 months," recalled Owens.
"Right now, the Friendship Centre has taken the lead on constructing some tiny homes to provide some safer accommodations for the folks that are living in those trailers currently."
The Port Alberni Friendship Centre (PAFC), along with BC Housing and the City of Port Alberni, is building the Walyaqil Tiny Home Village with the goal of combating homelessness while also replacing the notorious trailer park.
The village will house about 30 residents and provide "a safe, warm, dry place to call home," wrote Cyndi Stevens, PAFC's executive director, to a GoFundMe page seeking funds.
"We are proud to share that our Walyaqil Tiny Home Village is well underway, but we need your help. Due to unforeseen circumstances, we are at a standstill until we can secure more funds to move forward on the project," added Stevens on Sept. 16.
"Our village will be staffed 24/7 and provide supportive services, onsite washrooms, showers, and laundry, which are crucial for people transitioning to a job and a permanent housing solution."
Fire chief Owens says there have been several inspections at the trailer park property that have sparked concerns, especially given the condition of some of the trailers and because the area is quite congested. 
The latest fire remains under investigation.
PAFD responding to a fully involved trailer fire in the 3600 block of 4th Ave. Please avoid the area. #portalberni

— Port Alberni Fire (@portalbernifire) November 12, 2022