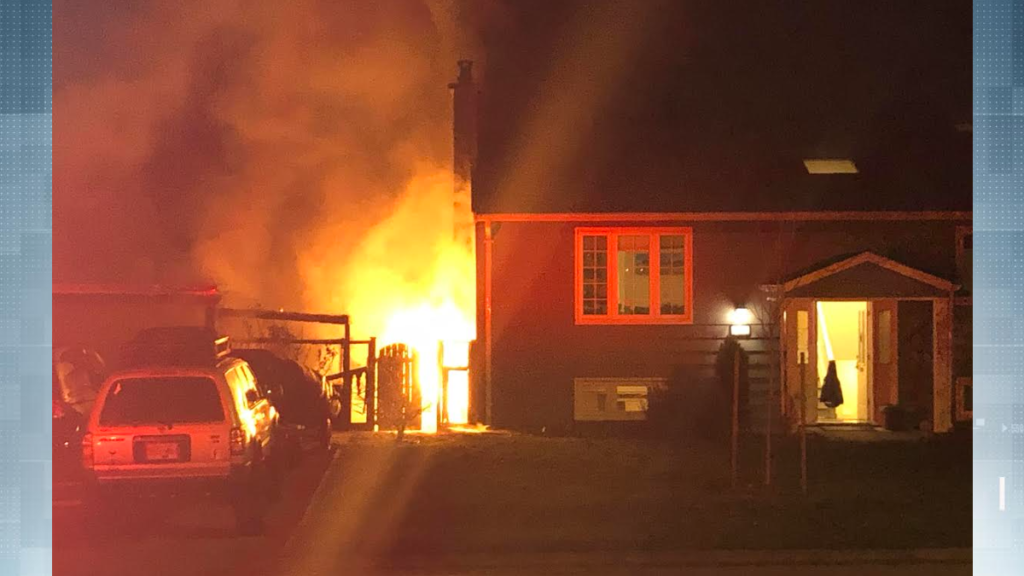 Martin Wong/Photo contributed
A residential fire in Saanich has displaced multiple families.
Firefighters with the Saanich Fire Department were called to a home in the 1700-block of Carnegie Crescent at approximately 7 p.m. on Saturday.
When crews arrived on scene they found a garage and shed area were on fire. However, the fire ended up spreading to another home nearby.
Frank MacDonald, deputy fire chief with the Saanich Fire Department, told CHEK News 18 firefighters tackled the blaze and were on scene for roughly three hours.
"Our crew did a fantastic job and we had great support," he said.
FortisBC, and B.C. Hydro attended the scene as power and natural gas lines had to be shut off. Saanich Police and B.C. Ambulance Service were also on scene.
The homes were occupied at the time, with one of the residences containing two units that had families living in them.
"People in both units got out safely," MacDonald said. "In the second structure, there was a family that got safely as well."
All of the families are now displaced, according to MacDonald. He said some are able to stay with extended family in the community while others are being provided temporary accommodation through the province's emergency support program.
The cause is currently under investigation by both the fire department and Saanich Police. MacDonald said it isn't uncommon for the police to join their investigations as there have been numerous suspicious fires in the community lately.
"There has been a rash of suspicious fires in Saanich in recent months," he said. "It's not uncommon for police and fire to collaborate together on this when we see this rash of set fires."
However, MacDonald said it is far too soon to definitively say whether the fire was set intentionally or is connected to other suspicious fires.
"It's definitely too early to say," he said.