A logging truck driver helped save the life of another driver after his logging truck was rear-ended by a pickup near the Nanaimo Airport.
The North Oyster Volunteer Fire Department responded to a fiery crash Wednesday morning that occurred along the Island Highway.
The collision happened shortly after 6 a.m. on July 22 along a stretch of the highway just south of the Nanaimo Airport – close to where Cedar Rd. merges with the northbound lane.
A white Chevrolet pickup truck collided with the back end of a logging truck hauling a full load.
Photos taken at the scene of the accident show the pickup truck with three of its four tires suspended off the ground as a result of the collision.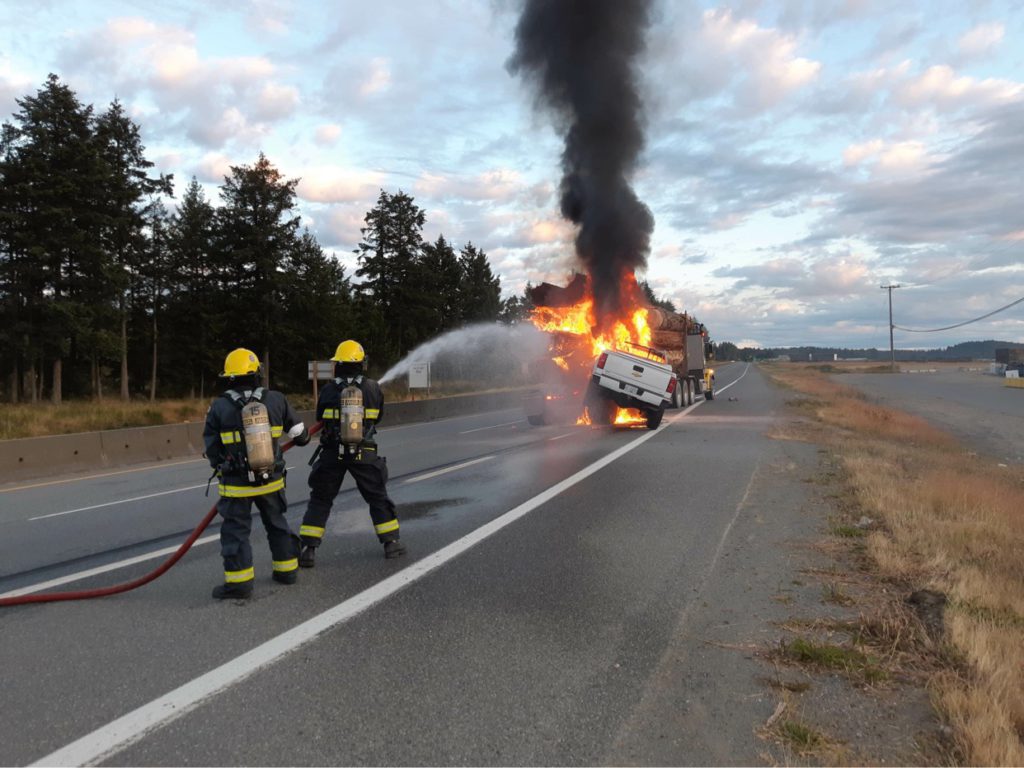 North Oyster Volunteer Fire Department said the driver of the logging truck, Carl Wilson, jumped out and immediately used his fire extinguisher to knock down the flames.
Then, with the help of some witnesses, Wilson was able to pull the driver of the white Chevrolet out of the wreckage.
"[I] felt a great big bang at the back of the truck and looked in the mirrors. I didn't see anything it was all dusty," Wilson said, adding he then saw a pickup wedged in the load.
Wilson said he feared the driver was dead. He went back to find the pickup on fire and found an injured man stuck behind the wheel.
"Just grabbed the fire extinguisher, started exhausting it and then me and a couple of other drivers got the driver out and then put another fire extinguisher on it and then it just took off and everybody got out of the way," Wilson said.
North Oyster Fire Rescue Captain Kristopher Hill said that the actions of Wilson saved the other man's life.
"To suppress the fire down to a point where he could safely extricate the driver of the pickup truck who was unable to extricate himself, so the actions of the logging truck driver definitely saved the life of the pickup driver so kudos to him for his brave actions," Hill said.
The 38-year-old driver of the white pickup truck, a man from Langley, claimed that he fell asleep at the wheel while on his way to catch a ferry.
He was taken to hospital with serious but non-life-threatening injuries.
Northbound traffic along the Island Highway was diverted to a single lane for close to three hours as crews worked on clearing the scene.