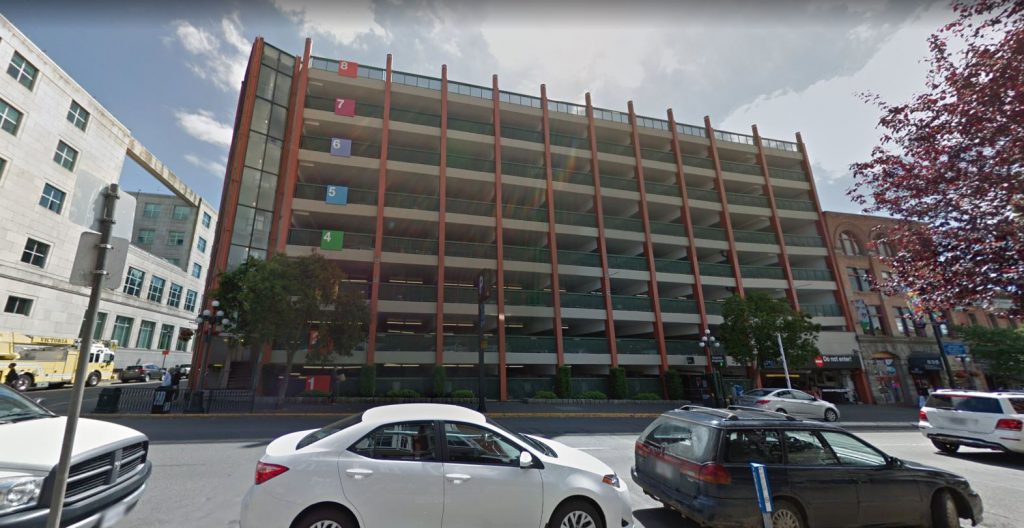 Victoria city council is set to consider a staff recommendation to adjust some parking fees to the rates that were in place before the COVID-19 pandemic.
The staff proposal also suggests the city extend some of the reduced rates that were put in place in April to help reduce the financial burden for drivers and help local businesses during the COVID-19 public health emergency.
The staff report suggests that on Aug. 4, the city reinstate regular rates at the Yates Street and Centennial Street parkades.
The reduced rates would remain in place at the Broughton Street, View Street and Johnson Street parkades.
According to the staff recommendation, the reduced pricing is a daily rate of $1 per hour with the first hour free. The daily maximum is $9 for View Street and Johnson Street and $5 for Broughton Street. The reduced monthly rate is $85 an hour.
If the city decides to reinstate the regular fees at the Yates Street and Centennial Street Parkade, the pricing would include a free first hour, followed by a second and third hour at $2. The fourth hour and beyond would be $3 an hour, with the daily maximum at $14.50.
Staff are also recommending the city increase the monthly rate at the Yates Street Parkade to $175 and the monthly rate to $130 at the Centennial Street Parkade, effective Sept. 1.
The report also says the city should reinstate regular on-street metered rates and time limits as per map in Appendix A (see below) and reinstate enforcement of all unmetered time-limited zones.
Finally, city staff recommend council reduce parking lot rates at Royal Athletic Park to $1 per hour with a $5 daily maximum.
The Royal Theatre and Wharf Street parking lots would also have reduced rates. – $2 per hour with a $12 maximum
"Parking space utilization has continued to experience a steady increase over the past month. As of
the week ending July 10, on-street use climbed to 76 per cent of last year's transaction volumes," the staff report states.
The report says parkade utilization is currently at approximately 55 per cent of last year's transaction
volumes, up from approximately 40 per cent in early June. The Yates Street and Centennial Square parkades are the most used.
"Therefore, it is recommended that regular hourly rates be reinstated at the Yates Street and Centennial Square parkades, with a reduced daily maximum of $14.50. It is also recommended that monthly rates in these two parkades be increased; the suggested rates reflect a substantial, but gradual increase to encourage shifting to other parkades while recognizing the current economic situation in the community," the report says.