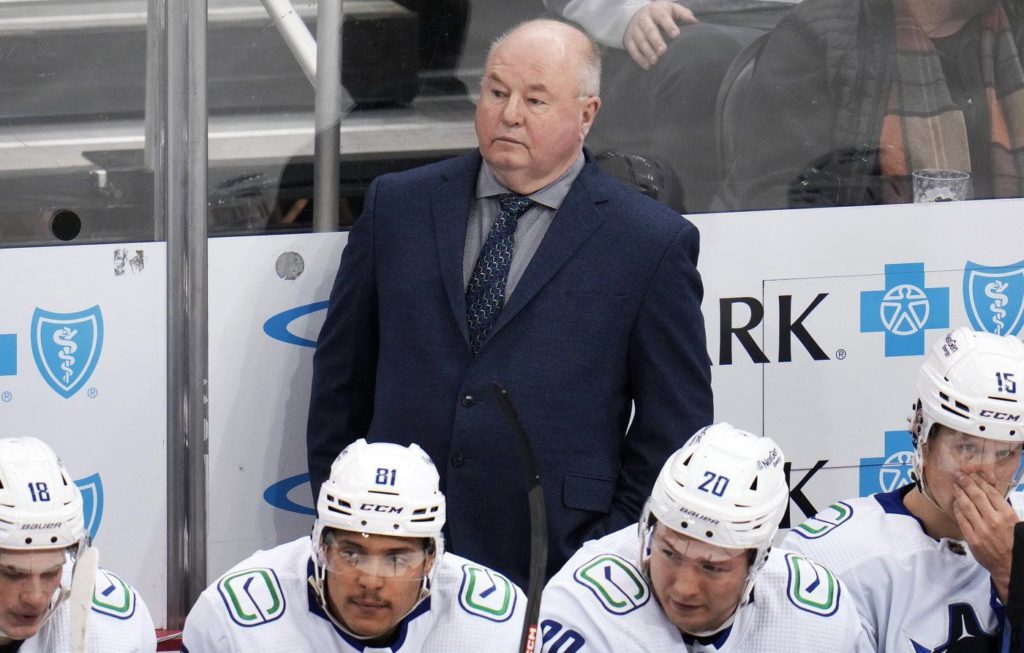 THE CANADIAN PRESS/AP-Gene J. Puskar
Rumours of an imminent change behind the Vancouver Canucks bench haven't escaped current head coach Bruce Boudreau.
"I'd be a fool not to say that I don't know what's going on," Boudreau said Friday. "But … you come to work and you realize, you know how great the game is."
Tears welled in his eyes as he spoke.
Talk of Boudreau's departure has circulated since the beginning of the season when the Canucks (18-23-3) got off to an ugly 0-5-2 start.
Boudreau was hired on Dec. 6, 2021 to replace former head coach Travis Green.
Under his guidance, the Canucks finished last season 32-15-10 and missed the post-season by five points.
But the success didn't transfer into the 2022-23 campaign. While the Canucks have consistently found ways to score, they've also given up an average of 3.96 goals per game and the team's penalty kill has been a liability, operating at a league-worst 66.9 per cent.
Vancouver sat sixth in the Pacific Division, 12 points out of a playoff spot ahead of a match-up with the Colorado Avalanche on Friday.
Reports have ramped up in recent days that the Canucks plan to bring in former Tampa Bay Lightning and Arizona Coyotes coach Rick Tocchet any day now.
Jim Rutherford, the team's president of hockey operations, told reporters on Monday that he's had conversations over the last few months about bringing in a new coach, but has always been clear that Vancouver is not looking to — and does not want — to make a change.
"Bruce is our coach right now," he said.
When Boudreau didn't take the ice for morning skate Friday, speculation quickly spread across social media.
"I've got my wife phoning me saying 'You're not on the ice! Is everything OK?'" Boudreau said.
Asked how he responded, the veteran bench boss was emphatic.
"I'm still here!" he said. "I just don't go on the ice all the time."
A former centre for the Toronto Maple Leafs and the Chicago Blackhawks, the 68-year-old Boudreau previously coached the Capitals, Anaheim Ducks and Minnesota Wild. He won the Jack Adams trophy as the league's top bench boss in 2008.
Asked Friday what it means to be a head coach in the NHL, Boudreau's voice seemed to catch in his throat.
"I'll talk later," he said, turning away from the assembled reporters.
Earlier, Boudreau said he's been trying to block out the noise in recent days.
"It's tough not to feel it," he said. "But, look — you love it, you want to go do it. So that's the way I shut it out, just basically realizing how much you care about the game and the players and all that goes on."
This report by The Canadian Press was first published Jan. 20, 2023.