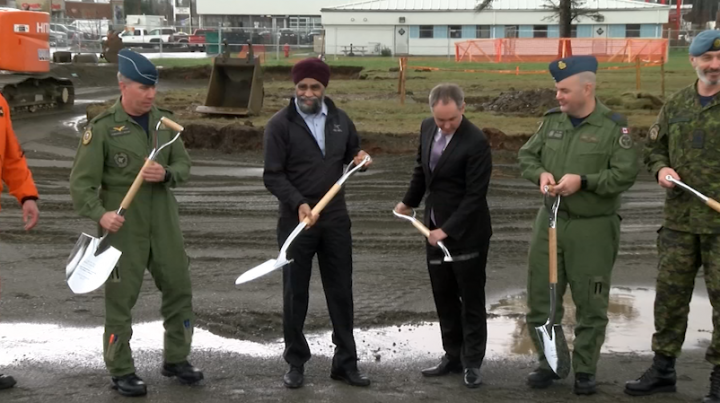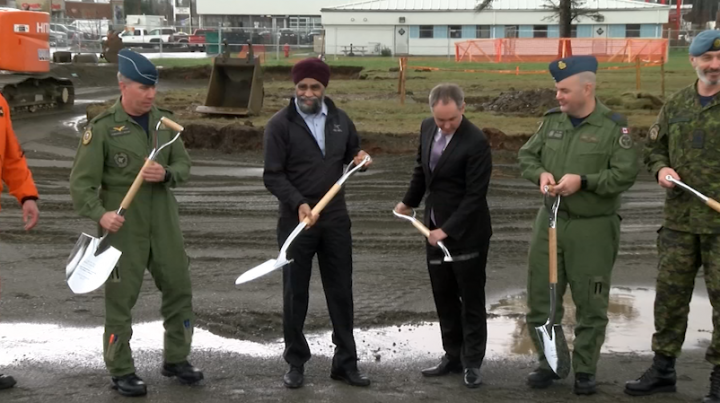 Canada's defence minister was in the Comox Valley Thursday, breaking ground for a new search and rescue training facility at 19 Wing Comox.
Defence Minister Harjit Sajjan toured the future site of the new training centre for the newly acquired fixed-wing search and rescue aircraft fleet.
The new training centre will include ten classrooms as well as sophisticated training devices such as a full-flight simulator, a cockpit procedure trainer, a sensor station simulator, and an aircraft maintenance trainer.
The centre will be used to train both maintenance and flight crews. Simulation training improves efficiency, environmental impact and operations by reducing the need to use operational aircraft for training purposes.
"It is essential that our search and rescue crews have the right facilities in which to develop the skills they need to perform their duties safely and effectively," said Sajjan. "The construction of this training centre represents another step forward in a key project, supporting our mission of being strong at home, ready to assist in times of natural disaster, to support search and rescue, and to respond to domestic emergencies."
The first of 16 planes made by Airbus are scheduled for delivery by the end of 2019. Sajjan says they might serve in more roles than just search and rescue.
"We also have to keep in mind that these aircraft are for the air force as well and could be utilized for other purposes. The air force commander is conducting the analysis on this and when we have the exact information when the aircraft come in we will be happy to notify Canadians on this," Sajjan in Comox Thursday.
The initial contract was awarded to Airbus Defence and Space to procure new fixed-wing search and rescue aircraft fleet of 16 C-295W to replace Canada's fleets of Buffalo and (legacy) Hercules aircraft in the search and rescue role on 1 December 2016.
The contract is for a period of 11 years and is valued at $2.4 billion (plus applicable taxes). It includes six years of acquisition, transition and set-up, construction of a new training centre, and the first five years of maintenance services.
During the transition to the new search and rescue aircraft, the existing RCAF fleets will continue to be maintained and operated to ensure search and rescue responsibilities.