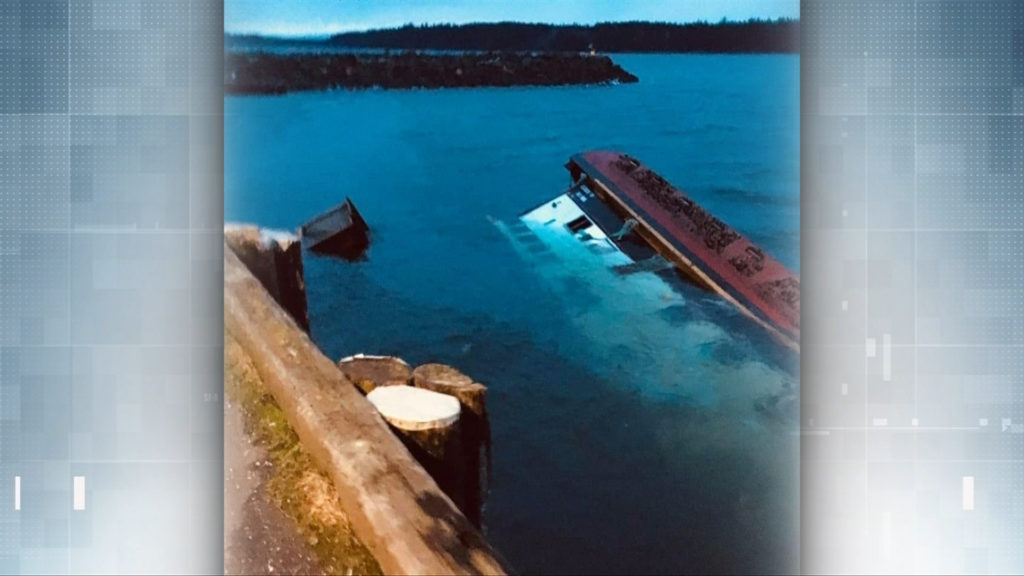 Photo submitted to CHEK News/Facebook
A large barge was recently discovered underwater in Port McNeill's harbour.
According to Port McNeill Fire Rescue, firefighters along with members of the RCMP and Canadian Coast Guard were called to the town's harbour shortly after 11 p.m. on Dec. 24 for reports of a barge underwater.
When crews arrived on scene they discovered a vessel submerged and another smaller barge that was on the nearby breakwater.
"It wasn't like it was a small vessel or anything, it was pretty big … it was two storeys and roughly 80 feet long," a spokesperson with the Port McNeill Fire Rescue told CHEK News.
The Canadian Coast Guard Environmental Response, first responders and West Coast Marine Response attended in the early hours of Dec. 25.
The larger of the two barges, the 80-foot, two-storey Alaska Plaza, sunk at the dock with an estimated 3,000 litres of diesel fuel on board, according to the Coast Guard.
A boom was laid around the barge and successfully contained the spill, according to the Coast Guard's communications officer Dan Bate. Diesel was upswelling from the barge but "no fuel has been observed outside of the containment boom."
The second barge, the 50-foot Sea Lander, has no fuel on board. It separated from the dock and got stuck on the breakwater, but did not sink. A local tug boat tried to tow the Sea Lander off the breakwater, but winds on Dec. 25 were too strong. An alternate plan is being worked on between the barge owner, their contractor and the Coast Guard.
B.C. Emergency Health Services was also brought in because the large barge appeared to have had living accommodations onboard.
"We had to search right away, especially with the swells and the winds. It wasn't a good situation," the spokesperson said, later adding that no one was found and it didn't appear that anyone had been on board when the vessel went down.
Crews also discovered that a large amount of fuel had leaked from the sunken vessel.
"There has been a pretty good spill response put in place, they have cleaned up a lot already," the spokesperson said. "There is quite a significant amount of diesel."
The spokesperson said they could not comment on what caused the vessel to sink but noted that the winds and swells were "significant" around the time of the incident.
They also said the cleanup is ongoing and it will be "some time" before the vessel is removed from the water.
With files from Zoe Ducklow/Local Journalism Initiative Reporter/Canadian Press