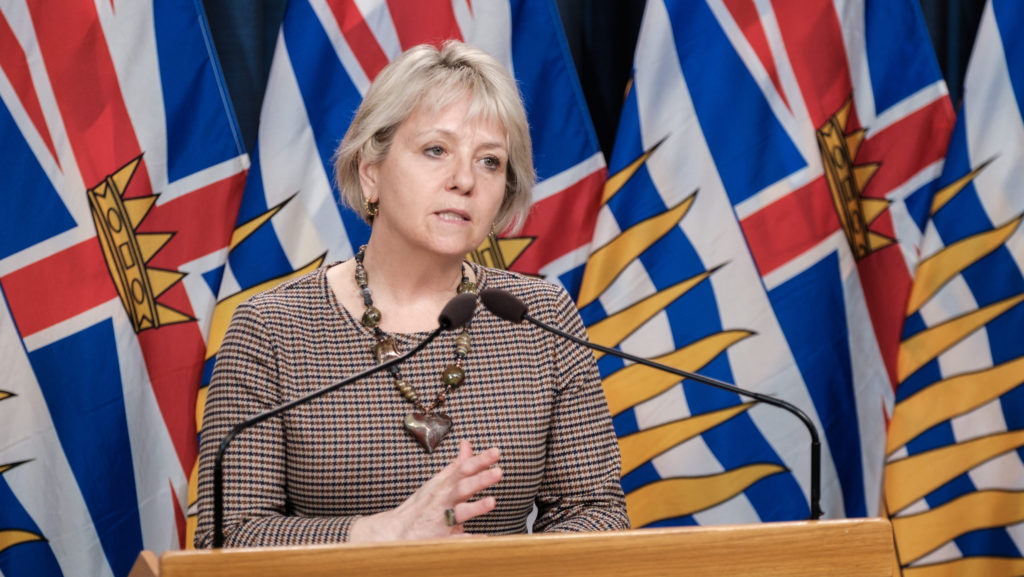 British Columbia is reporting 908 new cases of COVID-19 for the entire province with three additional deaths in that span.
This marks the highest number of cases seen in a daily update since Nov. 27, 2020, when 911 cases were reported, according to the BC Centre for Disease Control's online dashboard.
B.C. has now reported 2,424 new COVID-18 cases in the last 72 hours.
Of the 908 new cases, 55 are linked to the Island Health region. As far as the Island numbers go, Island Health has now reported 100 new cases in the past 48 hours.
There are currently 6,245 active cases in British Columbia (an increase of 389 from Mar. 25), while 9,996 residents remain under active public health monitoring.
Dr. Bonnie Henry says that 294 are in hospital – a decrease of 12 since Mar. 25 – with 81 people in critical care as a result of the virus (an increase of two).
Since Thursday's numbers, there have been 294 new cases of COVID-19 in the Vancouver Coastal Health region, 438 in the Fraser Health region, 55 in the Island Health region, 43 in the Interior Health region, 78 in the Northern Health region and no new cases of people who reside outside of Canada.
There were three additional deaths related to the virus on Friday. This brings the provincial death total over the course of the pandemic to 1,449.
There have been 140 new confirmed COVID-19 cases that are variants of concern in B.C. as well, for a total of 1,912 cases.
Of the total cases, 258 are active and the remaining people have recovered. This includes 1,666 cases of the B.1.1.7 (U.K.) variant, 47 cases of the B.1.351 (South Africa) variant and 199 cases of the P.1 (Brazil) variant.
Also as of Friday, the total number of cases in British Columbia over the course of the pandemic has reached 95,677.
"While we are in a different stage of our COVID-19 pandemic than where we have been before – safe and effective vaccines that are increasing the protection for all of us – we are facing a sustained increase in clusters of new cases and outbreaks, including increasing cases caused by variants of concern. This is particularly concerning in the Lower Mainland areas," reads a statement from Dr. Henry and Health Minister Adrian Dix.
"We have been able to slowly turn the dial on some restrictions. However, we all need to remember while some activities are safe for us to do, others simply are not."
Health officials also said, to date, 637,856 doses of COVID-19 vaccine have been administered in the province, 87,233 of which are second doses.
Vaccine appointment bookings are now open for people 74 or older and Indigenous peoples over 55. Starting on Monday, individuals who have clinically extreme vulnerability and have received a letter identifying them as such can also book their vaccine appointments.
Island Health
According to the latest data provided by Island Health, there are currently 266 active cases on Vancouver Island.
Of the active cases, 117 are on southern Vancouver Island, 128 on central Vancouver Island and 21 on northern Vancouver Island.
Southern Vancouver Island includes the Greater Victoria region, Southern Gulf Islands and the Port Renfrew area.
Central Vancouver Island includes the Cowichan Valley, Duncan, Nanaimo, Parksville, Port Alberni and Tofino areas.
Northern Vancouver Island goes from the Comox Valley to Port Hardy but also includes surrounding areas like Alert Bay and Sointula.
Over the course of the pandemic, the Island Health region has reported 3,081 cases.